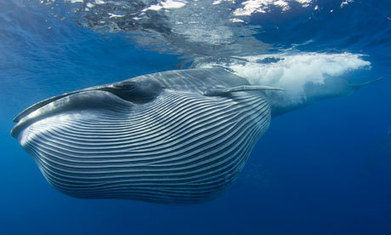 February 29, 2013 David Suzuki Foundation
▶ SONAR AND WHALES ARE A DEADLY MIX http://www.davidsuzuki.org/blogs/science-matters/2013/02/sonar-and-whales-are-a-deadly-mix/
-- WATCH --
THE KILLING IMPACT OF OIL AND MINING IN ALASKA
Winner of Goldman Prize
BlueAndGreen Tomorrow, July 20, 2014
▶ 138,000 SPECIES UNDER THREAT AS OBAMA APPROVES GAS AND OIL EXPLORATION IN ATLANTIC. US president Barack Obama has approved a project that will open up an area off the east coast of the US to oil and gas exploration with the use of sonic cannons – which are highly damaging to marine wildlife.
The constant thumping from the cannons in the water can be heard thousands of miles away, with the physiological effects to marine wildlife unreported. There is also the risk of damaging nine of the remaining 500 north Atlantic right whales.
Katie Zimmerman, a spokesperson for the South Carolina Coastal Conservation League, said, "Once they can't hear — and that's the risk that comes with seismic testing — they are pretty much done for."
http://blueandgreentomorrow.com/2014/07/20/138000-species-under-threat-as-obama-approves-gas-and-oil-exploration/
Green Prophet, April 11, 2014
▶ WHY OIL AND GAS COMPANIES (AND THE NAVY) SHOULD BUY WHALES HEARING AIDS. Whales, the earth's largest marine mammals, have had more than their share of ecological problems in all parts of the world's seas and oceans. One of their biggest risks is noise in marine habitats caused by drilling for oil and gas.
http://www.greenprophet.com/2014/04/why-oil-and-gas-companies-should-buy-whales-hearing-aids/
Salon, July 18, 2014
▶ CHOOSING BIG OIL EXPORTS OVER WHALE & HEALTHY SEAS: OBAMA OPENS EAST COAST FOR OFFSHORE EXPLORATION http://www.salon.com/2014/07/18/choosing_big_oil_over_whales_obama_opens_east_coast_for_offshore_exploration/
Oceana, July 18, 2014
▶ OBAMA ADMIN. CLEARS WAY FOR DYNAMITE-LIKE BLASTS TO SEARCH FOR OIL & GAS OFF EAST COAST, IGNORES LOCAL OPPOSITION & THREATS TO FISHERIES, ECONOMIES & MARINE MAMMALS http://oceana.org/en/news-media/press-center/press-releases/obama-admin-clears-way-for-dynamite-like-blasts-to-search-for-oil-gas-off-east-coast-igno
▶ Washington Post, February 27, 2014
U.S. RULES WOULD ALLOW 'SEISMIC AIR GUNS' IN SEARCH FOR OFFSHORE OIL, GAS http://www.washingtonpost.com/national/health-science/us-rules-would-allow-seismic-air-guns-in-search-for-offshore-oil-gas/2014/02/27/68533a0c-9ffb-11e3-a050-dc3322a94fa7_story.html
VIDEO (2:42)
OCEANA, March 05, 2014
THE SCIENCE BEHIND SEISMIC TESTING IN THE OCEANS. We don't need to turn the ocean into a blast zone for our energy needs. Seismic airguns create intense, repetitive booms that will drown out the dolphins' songs, deafening, injuring, or even killing the animals close to the blasts. https://www.youtube.com/watch?v=VWaoeXvLfzs
Guardian Environment, July 2, 2013
▶ WHALES FLEE FROM MILITARY SONAR LEADING TO MASS STRANDINGS, RESEARCH SHOWS. Studies are missing link in puzzle that has connected naval exercises to unusual mass strandings of whales and dolphins. Beaked whales, the most common casualty of the strandings, were shown to be highly sensitive to sonar. But the research also revealed unexpectedly that blue whales, the largest animals on Earth and whose population has plummeted by 95% in the last century, also abandoned feeding and swam rapidly away from sonar noise.... http://www.guardian.co.uk/environment/2013/jul/03/whales-flee-military-sonar-strandings
Ocean Shepherd:
▶ REPORT LINKS SONAR TO WHALE STRANDINGS
http://oceanshepherd.blogspot.com/p/whalehunting.html
Focusing On Wildlife, February 01, 2014
▶ STUDY: PROTECTING WHALES FROM MAN-MADE SEISMIC SHOCK Whale experts have teamed up with the oil and gas industry to develop a step-by-step guide for reducing the impacts of noise pollution from marine seismic surveys on whales and other marine species. http://focusingonwildlife.com/news/study-planning-can-protect-whales-in-seismic-surveys/
DO WHALES HAVE CULTURE?
NRDC Switchboard, April 02, 2014
▶ U.S. NAVY IMPLICATED IN NEW MASS STRANDING OF WHALES http://switchboard.nrdc.org/blogs/mjasny/us_navy_implicated_in_new_mass.html
August 30, 2013 Latin Times
▶ NAVY TRAINING DOLPHINS: US NAVY TRAINING, TESTING MAY KILL HUNDREDS AND INJURE THOUSANDS OF WHALES AND DOLPHINS http://www.latintimes.com/articles/7919/20130830/navy-training-dolphins-testing-kill-hundreds-injure-sonar-whales.htm#.UiE-Erzc-RQ
September 4, 2013 Treehugger
▶ NAVY ADMITS TRAINING EXERCISES WILL KILL HUNDREDS OF WHALES AND DOLPHINS http://www.treehugger.com/ocean-conservation/navy-admits-war-exercises-will-kill-hundreds-whales-and-dolphins.html
Mongabay, December 13, 2013
▶ SONAR DIRECTLY IMPACTS WHALE BEHAVIOR, ACCORDING TO MILITARY WHALE STUDY http://news.mongabay.com/2013/1213-rowland-bluewhale-behavior-impacted-by-sonar.html
▶ NEW USA NAVY PERMIT WOULD ALLOW HARM TO MILLIONS OF MARINE ANIMALS http://sco.lt/5dIsQj
Summit Voice, December 17, 2013
▶ CONSERVATION GROUPS CHALLENGE FEDS ON NAVAL TRAINING. Lawsuit highlights potential impacts to marine mammals from sonar and underwater explosives http://summitcountyvoice.com/2013/12/17/conservation-groups-challenge-feds-on-naval-training/
▶ DEEP SEA MINING RUSH MOVES CLOSER AS ICE MELTS: DEVASTATING OCEAN SEABEDS, DESTROYING UNKNOWN SPECIES AND ECOSYSTEMS http://sco.lt/85WcRl
Grist, February 28, 2014
▶ MILLIONS OF DOLPHINS COULD BE HURT AS OIL INDUSTRY BLASTS ALONG EAST COAST http://grist.org/news/millions-of-dolphins-could-be-hurt-as-oil-industry-blasts-along-east-coast/
VIDEO
Oceana,
JOIN MIRANDA TO KEEP DOLPHINS SINGING: STOP SEISMIC AIRGUN BLASTING IN THE ATLANTIC. Dolphins talk to each other using whistles and songs, but seismic airguns create deafening booms that will drown out the dolphins' voices—deafening, injuring, or even killing the animals close to the blasts http://act.oceana.org/sign/stopseismic/
NRDC Switchboard, April 11, 2014
▶ GREEK MASS BEAKED WHALE STRANDING INVESTIGATION BEGINS: ONE WHALE PREGNANT http://switchboard.nrdc.org/blogs/mjasny/greek_mass_stranding_investiga.html
The Dodo, March 10, 2014
▶ U.S. NAVY WARSHIP STOPS FOR HOUR TO LET WHALES PASS https://www.thedodo.com/us-navy-warship-stops-for-hour-459904986.html
September 5, 2013 Guardian
▶ GHANA UNUSUAL NUMBER OF WHALE DEATHS BLAMED ON OFFSHORE SEISMIC OIL EXPLORATION http://www.theguardian.com/world/2013/sep/05/ghana-whale-deaths-offshore-oil-exploration
Mongabay, September 25, 2013
▶ SONAR USED BY OIL COMPANY CAUSED MASS WHALE STRANDING IN MADAGASCAR http://news.mongabay.com/2013/0925-sonar-testing-whale-stranding.html
=======================
4 YEARS AFTER DEEP WATER HORIZON OIL SPILL
DOLPHINS, OTHER SPECIES DYING IN DROVES
AND SCIENTISTS CAN'T STOP IT:
UNHEALTHY OCEANS AND MORE
=======================
-▶ OBAMA'S ARCTIC STRATEGY SETS OFF A CLIMATE TIME BOMB. THE SUICIDAL RACE FOR ARCTIC'S NATURAL RESOURCES
=======================
DEEP SEA MINING:
DEVASTATING OCEAN SEABEDS, DESTROYING UNKNOWN ECOSYSTEMS http://sco.lt/70rdpp
=======================
▶ ENVIRONMENTALISTS LINK WHALE BEACHINGS TO OFFSHORE WIND FARM SONAR http://sco.lt/5vtB4r
Canada.com, November 14, 2012
▶ BRITISH COLUMBIA SCIENTIST SAY WAVE TURBINES WOULD PUT KILLER WHALES AND OCEAN ECOSYSTEMS AT RISK http://www.canada.com/technology/scientists+turbines+would+killer+whales+risk/7547671/story.html
WATCH
BBC. Natural World.
A KILLER WHALE CALLED LUNA
The emotional story of a young killer whale's quest for companionship after he was separated from his family and found himself on the rugged, wild coast of Vancouver Island. The film records the human friendships he developed and the trouble this led him into. From death threats to numerous capture attempts by the government, the film-makers watched as various people tried to determine Luna's fate...http://www.youtube.com/watch?v=BFFs9PPFiNM
=========================
OCEAN NOISE
=========================
NERC Science of The Environment, March 03, 2014
▶ SHIPPING NOISE CHANGES FISH BEHAVIOUR. Fish that eat near busy shipping lanes, may not be as efficient at foraging for food, say scientists investigating the effect of elevated noise levels on marine life.Ship noise changes fish behaviour http://planetearth.nerc.ac.uk/news/story.aspx?id=1631&cookieConsent=A
Huffington Post Hawaii, September 24, 2013
▶ SEISMIC DRILLING IMPACTS OCEAN LIFE GENERALLY: OFFSHORE OIL EXPLORATION LINKED TO 50 PERCENT REDUCTION IN COD CATCH http://www.huffingtonpost.com/candace-calloway-whiting/offshore-oil-exploration-_b_3977171.html
NRDC SWITCHBOARD, April 04, 2014
▶ MILESTONE IN OCEAN NOISE FIGHT. After five years, the International Maritime Organization adopted guidelines to reduce underwater noise from commercial ships. The ocean, simply put, is an acoustic world, and marine species depend on sound for virtually everything they do to survive: feeding, finding mates, avoiding predators, maintaining social bonds, orienting themselves in the world. But noise from shipping and other human activity has radically altered their environment. http://switchboard.nrdc.org/blogs/mjasny/milestone_in_ocean_noise_fight.html
Futurity, February 27, 2014
▶ WHALES AND SHIPS FIGHT FOR SPACE IN NOISY ARCTIC http://www.futurity.org/whales-ships-fight-space-noisy-bering-sea/
Vancouver Sun, October 3, 2013
▶ WHALES IN BRITISH COLUMBIA PUT AT RISK BY BOMBARDING, CONSTANT SHIPPING NOISE http://www.vancouversun.com/technology/Whales+bombarded+constant+shipping+noise/9069372/story.html
July 28, 2013 NPR
▶ CONSERVATIONISTS CALL FOR QUIET: THE OCEAN IS TOO LOUD !! http://www.npr.org/2013/07/28/206362675/conservationists-call-for-quiet-the-ocean-is-too-loud
▶ REDUCING UNDERWATER NOISE TO HELP HEALTH OF MARINE WILDLIFE http://sco.lt/6AeJqD
News Channel 5, December 29, 2013
▶ SPEED LIMIT FOR SHIPS REDUCED TO PROTECT NORTH ATLANTIC RIGHT WHALES http://www.wptv.com//dpp/news/national/speed-limit-for-ships-reduced-to-protect-north-atlantic-right-whales
VIDEO
August 16, 2013 Seattle PI
ANOTHER DEAF WHALE? TRAPPED SPERM WHALE SURPRISED BY SWIMMER http://blog.seattlepi.com/candacewhiting/2013/08/16/trapped-sperm-whale-surprised-by-swimmer-another-deaf-whale/
========================
July 13, 2013 Wildlife Extra News -
▶ POD OF KILLER WHALES RESCUED AFTER STRANDING IN AUSTRALIA http://www.wildlifeextra.com/go/news/queensland-orca-rescue.html
Summit Voice, July 05, 2014
▶ STUDY SHOWS WHALES ARE ECOSYSTEM ENGINEERS. Healthy whale populations could buffer oceans from some global warming impacts. Whales may play a much bigger role in ocean ecosystems than previously thought, according to a University of Vermont researcher who studied how the great cetaceans recycle and move nutrients from one region to another. http://summitcountyvoice.com/2014/07/05/oceans-study-shows-whales-are-ecosystem-engineers/
World Wildlife Fund
▶ WESTERN GRAY WHALE - The western gray whale, among the largest whales found in the ocean, faces serious threats from the impacts of oil and gas exploration due to the Piltun Astokhskoye oil field lying 16 km away from the Sakhalin Islands in Russia. These islands are the only feeding grounds of this whale, and increased noise pollution and disturbance is driving them away. http://wwf.panda.org/what_we_do/footprint/climate_carbon_energy/seize_your_power/icons_at_threat/western_gray_whale/index.cfm
▶ IF YOU'VE EVER QUESTIONED THE EMOTIONAL CAPACITY OF ANIMALS, WATCH THIS VIDEO http://sco.lt/8Nnhjd
TakePart, October 15, 2013
▶ WHAT'S KILLING THE KILLER WHALES OF THE PACIFIC NORTHWEST - TOO MANY BOATS, OR NOT ENOUGH SALMON? http://www.takepart.com/article/2013/10/14/fight-rages-over-wild-orca-decline-too-many-boats-or-not-enough-salmon
Los Angeles Times, January 24, 2014
▶ 25 DEAD PILOT WHALES FOUND OFF FLORIDA: 5 THINGS TO HELP UNDERSTAND IT http://www.latimes.com/nation/nationnow/la-na-nn-25-dead-pilot-whales-20140123,0,607073.story#axzz2re5vzXj4
Huffington Post Green, December 15, 2013
▶ U.S. NAVY EXPANDS SONAR TESTING DESPITE TROUBLING SIGNS FOR SEA LIFE http://www.huffingtonpost.com/2013/12/15/navy-sonar-testing_n_4449784.html?ref=topbar
Champions of Cetaceans, December 089, 2013
▶ NAVAL EXERCISES POSSIBLE CAUSE OF FLORIDA PILOT WHALE STRANDINGS http://championsforcetaceans.com/2013/12/08/pilot-whales-maybe-victims-of-friendly-fire-by-the-navy/
National Geographic, November 6, 2013
▶ LISTENING TO SPERM WHALE SONAR http://newswatch.nationalgeographic.com/2013/11/06/listening-to-sperm-whale-sonar/
NOAA Fisheries, April 23, 2014
▶ ANTARCTIC MINKE WHALES, MYSTERY SOUND MAKERS OF THE SOUTHERN OCEAN Scientists have discovered the source of the "bio-duck" sound, a strange noise that has mystified scientists and submarine captains in the ocean off Antarctica for decades. http://www.nmfs.noaa.gov/podcasts/2014/04/minke_whales.html#.U1ibHcf1_OS
About My Planet, March 07, 2014
▶ SHIP PROPELLERS KILL ANOTHER WHALE. A young North Atlantic right whale was found dead along the Georgia Coast with 20 propeller lacerations on its body. There are only about 400 of this endangered whale in the world and last year alone, four of the six right whales found dead were killed by ships and one was found tangled in a fishing net. http://www.aboutmyplanet.com/environment/ship-propellers-kill-another-whale/
LiveScience, May 16, 2014
▶ 500 RIGHT WHALES COULD FACE THE WRONG FATE. The North Pacific and North Atlantic species, however, remain critically endangered. In fact, estimates suggest that only approximately 500 North Atlantic right whale individuals left in the world.
Ever since the depletion of the North Atlantic right whale population, these whales have struggled to recover, in part because of how long it takes them to mature and reproduce, and also because of threats they face from human activity. The characteristics that made these whales the "right" ones to hunt are now placing them in the path of other dangers. Though there is a moratorium on commercial whaling, these whales have still faced threats like injuries and fatalities from ship strikes and fishing gear entanglement. With the new seismic testing proposal, the situation grows even worse. http://www.livescience.com/45672-right-whale-extinction-threat.html
Telegraph, March 27, 2014
▶ UKRAINE'S SPY DOLPHINS SWITCH ALLEGIANCE TO RUSSIA: Ukrainian Army dophins, which have been trained to plant bombs and kill frogmen, will be transferred to Russia http://www.telegraph.co.uk/news/worldnews/europe/ukraine/10724506/Ukraines-spy-dolphins-switch-allegiance-to-Russia.html
The Independent, March 31, 2014
▶ MAJOR VICTORY FOR WHALING CAMPAIGNERS AS UN JUDGES ORDER JAPAN TO STOP HUNTING/SLAUGHTERING WHALES http://www.independent.co.uk/environment/major-victory-for-whaling-campaigners-as-un-judges-order-japan-to-stop-hunting-950-whales-a-year-in-the-antarctic-9226621.html
OUR OCEANS ARE DYING
MASS EXTINCTION MAY BE INEVITABLE
-▶ GREENLAND'S MELTING: CREATING A DIFFERENT CLIMATE THAN EARTH HAS EVER SEEN http://sco.lt/8bjv73

-▶ POLAR BEARS MAY NEED TO BE FED BY HUMANS TO SURVIVE http://sco.lt/59BdYH
▶ ERADICATING ECOCIDE: WHY BUSINESS LEADERS MUST STEP UP TO THE CHALLENGE http://sco.lt/56vkOH
▶ THE SIXTH MASS EXTINCTION IS UPON US. CAN HUMANS SURVIVE? http://sco.lt/630INt
OCEAN WONDERS
10 WONDERFUL TED TALK VIDEOS: WORTHY WATCH http://sco.lt/4o0QRF