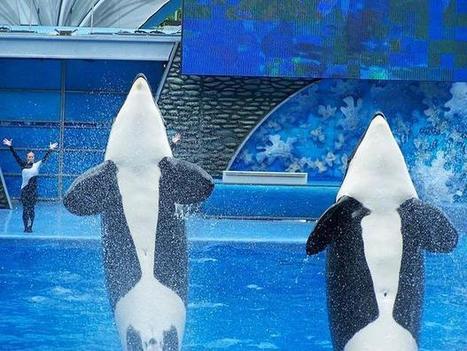 EXPOSE
THE HEARTBREAKING REAL-LIFE CAPTURE OF ORCAS
http://www.seaworldofhurt.com/orca-capture/
The Dodo, March 05, 2015
HOW TO KEEP A WILD WHALE ALIVE IN A 40-FOOT TANK FOR THE REST OF ITS' LIFE 'I Was Disgusted': How One Trainer Left The SeaWorld Horror Show https://www.thedodo.com/john-hargrove-seaworld-trainer-1025722144.html
The Dodo, March 11, 2015
▶THE LIST OF MEDICATIONS THAT SEAWORLD FEEDS ITS ORCAS IS LARGE AND INFURIATING https://www.thedodo.com/seaworld-orca-drugs-medications-1035364310.html
Mother Nature Network, February 05, 2015
▶ WORLD'S LONELIEST ORCA RECEIVE ENDANGERED SPECIES PROTECTION. Lolita, a wild-caught whale that has been confined at the Miami Seaquarium for more than 40 years, may be one step closer to leaving her small enclosure. http://www.mnn.com/earth-matters/animals/blogs/worlds-loneliest-orca-receives-endangered-species-protection
Daily Mail Online, February 25, 2015
▶ "NANUQ" THE BELUGA WHALE DIES AT SEAWORLD ORLANDO http://www.dailymail.co.uk/news/article-2963937/Nanuq-beluga-whale-dies-fire-SeaWorld-Orlando-fracturing-jaw-contracting-infection-loan.html
One Green Planet, February 19, 2015
▶ WHAT TAKING ORCAS FROM THE OCEAN FOR CAPTIVITY DOES TO WILD PODS http://www.onegreenplanet.org/environment/what-taking-orca-whales-from-the-wild-for-captivity-does-to-wild-pods/
VIDEO REPORT
Reuters, January 23, 2015
CONTROVERSY SHROUDS CAPTIVE KILLER WHALE IN MIAMI
http://www.reuters.com/video/2015/01/23/controversy-shrouds-captive-killer-whale?videoId=362985252
The Dodo, June 06, 2014
▶ 62 ORCAS HAVE DIED AT SEAWORLD: NOT A SINGLE ONE FROM "OLD AGE" https://www.thedodo.com/62-orcas-have-died-at-seaworld-580775893.html
VIDEO
CNN, November 17, 2014
RELEASED FOOTAGE OF WILD ORCAS CAPTURED FOR A LIFE IN CAPTIVITY http://ac360.blogs.cnn.com/2014/11/17/orca-hunter-turned-whale-rescuer-shares-his-video/
Grist April 02, 2014
▶ LEAKED DOCUMENTS REVEAL SEAWORLD IS DRUGGING ITS ORCAS http://grist.org/list/seaworld-drugs-orcas-benzodiazepine-xanax-valium/
The Dodo, December 29, 2014
▶ DRONE FOOTAGE REVEALS THE LONELIEST ORCA'S TINY TANK
https://www.thedodo.com/lolita-orca-tank-drone-footage-903439895.html
The Dodo, January 16, 2015
▶ PHOTO: SEAWORLD TRAINERS STILL RIDING ORCAS DESPITE LEGAL RULING https://www.thedodo.com/seaworld-trainers-orca-tank-936322477.html?xrs=RebelMouse_fb#
Oh No They Didn't! - December 29, 2014
▶ CETACEAN EXPERTS CONCERNED ABOUT ORCA STAR OF "BLACKFISH" http://ohnotheydidnt.livejournal.com/93186069.html
The Ecologist, October 23, 2014
▶ SAN FRANCISCO DECLARES: EVERY WHALE AND DOLPHIN HAS THE RIGHT TO BE FREE http://www.theecologist.org/campaigning/2606308/san_francisco_declares_every_whale_and_dolphin_has_the_right_to_be_free.html
Daily Mail Online, January 04, 2013
▶ THE DOLPHIN SNATCHERS: MAIL INVESTIGATION EXPOSES VILE TRADE WHERE ANIMALS ARE SOLD FOR UP TO £100,000 EACH TO AQUARIUM WHERE THEY SUFFER UNIMAGINABLE CRUELTY http://www.dailymail.co.uk/news/article-2257426/The-dolphin-snatchers-Mail-investigation-exposes-vile-trade-animals-sold-100-000-aquariums-suffer-unimaginable-cruelty.html
▶ HEARTBREAKING IMAGES OF DOLPHINS IN DRAINED AQUARIUMS THE RESULT OF 'ROUTINE PRACTICE' http://www.takepart.com/article/2012/10/22/heartbreaking-images-dolphins-lying-drained-aquarium-tank-routine-says-ric-o?cmpid=tpanimals-eml-2012-10-26-dolphins
VIDEO
NOT ALL "AQUARIUMS" ARE EQUAL
MONTEREY BAY AQUARIUM INSTITUTE: 1,000 MAGICAL MOMENTS
http://montereybayaquarium.tumblr.com/post/100533536678/1-000-magical-moments-the-aquarium-opened-to-the
The Dodo, July 24, 2014
▶ USDA COMPLAINT FILED OVER SEAWORLD'S SUNBURNED ORCAS. Citing The Dodo's interviews with several former SeaWorld trainers that personally applied zinc oxide to the skin of captive whales at the park, the complaint notes that one trainer even reported that "burnt layers of his skin would peel off in her hands" when she put sunscreen one one male whale. The main thrust of the complaint calls for more extensive shade coverage, pointing to these photos of the tanks which clearly lack shade cover: https://www.thedodo.com/usda-complaint-filed-over-seaw-641021639.html
The Orca Project, January 20, 2011
▶ KETO AND TILIKUM EXPRESS THE STRESS OF ORCA CAPTIVITY http://theorcaproject.wordpress.com/2011/01/20/keto-tilikum-express-stress-of-orca-captivity/
The Dodo, June 10, 2014
▶ HOW CONGRESS UNANIMOUSLY PASSED A GROUNDBREAKING LAW TO PROTECT CAPTIVE ORCAS https://www.thedodo.com/how-congress-unanimously-passe-586992397.html
RYOT News, June 1, 2014
▶ HELP SAVE 10 DOLPHINS FROM HORRIBLE CAPTIVITY IN LAS VEGAS SWIMMING POOLS http://www.ryot.org/edc-las-vegas-swimming-pools-dolphins/725561
Free Dolphins Belgium
▶ FOR A DOLPHINARIA-FREE EUROPE: DEMONSTRATION IN BRUSSELS. On the 28th of June 2014, an important demonstration will take place in Brussels to demand the closure of all the dolphinaria in Europe http://freedolphinsbelgium.wordpress.com/2014/06/09/for-a-dolphinaria-free-europe-demonstration-in-brussels-2014/
VIDEO
IF YOU'VE EVER QUESTIONED THE EMOTIONAL CAPACITY OF ANIMALS, WATCH THIS http://sco.lt/8Nnhjd
THE PRIVATE LIVES OF DOLPHINS
WATCH
DOLPHIN STAMPEDE CAPTURED ON BREATHTAKING DRONE
29 July 2013 Nation of Change
▶ INDIA BANS COMMERCIAL DOLPHIN ENTERTAINMENT http://www.nationofchange.org/india-bans-commercial-dolphin-entertainment-1375108058
Daily Kos, July 30, 2013
▶ INDIA DECLARES DOLPHINS "NON-HUMAN PERSONS", DOLPHIN HOW BANNED http://www.dailykos.com/story/2013/07/30/1226634/-India-Declares-Dolphins-Non-Human-Persons-Dolphin-shows-BANNED#
CONTROVERSIAL FILM
"BLACKFISH - THE WHALE THAT KILLED"
http://www.bbc.co.uk/programmes/b03j49l6
INTERVIEW WITH DIRECTOR
http://www.youtube.com/watch?v=A_gk1sVAyhU
July 19, 2013 Treehugger
▶ SEAWORLD BITES BACK AS "BLACKFISH" DOCUMENTARY MAKES IT TO THE BIG SCREEN http://www.treehugger.com/natural-sciences/seaworld-bites-back-blackfish-documentary-makes-it-big-screen.html

VIDEO
July 29, 2013 Huffington Post Green
▶ SEAWORLD UNDER FIRE AFTER PILOT WHALE STRUGGLES TO GET INTO WATER http://www.huffingtonpost.com/2013/07/29/seaworld-pilot-whale-video_n_3670634.html
WDC, February 26, 2014
▶ CAN CAPTIVE WHALES OR DOLPHINS BE RETURNED TO THE WILD? http://us.whales.org/blog/cathywilliamson/2014/02/can-captive-whales-or-dolphins-be-returned-to-wild
Take Part, September 24, 2013
▶ 20 YEARS AFTER 'FREE WILLY' WAS IT RIGHT TO FREE KEIKO THE KILLER WHALE? His Controversial Death. The debate surrounding his release back into the wild continues http://www.takepart.com/article/2013/09/24/i-remember-keiko-20-years-after-free-willy-former-trainer-recounts-killer-whales
The PETA Files Update: August 23, 2013
▶ HUNDREDS OF ANIMALS DIE AT THE PORTLAND AQUARIUM -- AND AUSTIN MAY BE NEXT http://www.peta.org/b/thepetafiles/archive/2013/09/25/update-hundreds-of-animals-die-at-the-portland-aquarium-and-austin-may-be-next.aspx
August 23, 2013 Care2
▶ 'DEATH LOG' REVEALS 200 ANIMAL DEATHS AT PORTLAND AQUARIUM http://www.care2.com/causes/death-log-reveals-200-animal-deaths-at-portland-aquarium.html
EcoWatch, June 04, 2014
▶ THE BLACKFISH EFFECT: 40 MEMBERS OF U.S. CONGRESS CALL ON USDA TO REVISE RULES FOR CAPTIVE MARINE ANIMALS http://ecowatch.com/2014/06/04/blackfish-effect-congress-usda-captive-marine-mammals/
June 22, Digital Journal
After Loro Parque in Spain, announced the death of a 10-month old SeaWorld-owned orca named Vicky, questions were raised over SeaWorld's breeding program.... http://www.digitaljournal.com/article/352913
▶ TAIWAN AQUARIUM ABANDONS CAPTIVE WHALE SHARK IN THE SEA - STRANDS TWICE, THEN... http://www.wildlifeextra.com/go/news/taiwan-whale-shark.html#cr
---- WATCH ----
INVESTIGATIVE VIDEO
January 1, 2013 Frontline, PBS
A WHALE OF A BUSINESS
http://www.youtube.com/watch?v=D3fZ2dMdtu8
===========================
WRECKING THE OCEAN ECOSYSTEM: OVERFISHING, COLLAPSING FISHERIES, OCEAN DEPENDENT SPECIES STARVING http://sco.lt/6bO2nR
===========================
AQUARIUM CAPTURE
----------------------------------
SeaWorldofHurt
THE HEART BREAKING REAL-LIFE CAPTURE OF ORCAS
http://www.seaworldofhurt.com/orca-capture/
PHOTOS
http://www.seaworldofhurt.com/orca-capture/default.aspx
▶ HOW DOLPHINS GET TO YOUR AQUARIUM http://sco.lt/5sTzW5
▶ WILD WHALES DO NOT BELONG ON DISPLAY IN SMALL AQUARIUM TANKS SO UNLIKE THEIR NATURAL HABITAT http://sco.lt/6GWfB3
VIDEOS
▶ SEAWORLD, SEA LIFE PARK AND DOLPHIN QUEST ARE LINKED TO DOLPHIN MASSACRE http://blog.seattlepi.com/candacewhiting/2014/01/19/seaworld-sea-life-park-and-dolphin-quest-are-linked-to-dolphin-massacre/
July 8, 2013 The Science Show, Australian Broadcasting Corporation
▶ WHY THE AQUARIUM TRADE IS THE REAL DOLPHIN KILLER: BEHIND 'THE COVER' http://www.abc.net.au/radionational/programs/scienceshow/dolphin-aquarium-trade/4802144
▶ CONTROVERSY OVER IMPORTING 18 WILD BELUGA WHALES TO US MARINE PARKS (AQUARIUMS)
In the United States, aquariums and marine theme parks have responded to changing public sentiment about keeping marine mammals in captivity by emphasizing that they have not captured whales and dolphins from the wild in a long time.
Why put healthy wild whales through the trauma of thousands of miles of transport for display in a small tank so unlike their natural habitat? Belugas do not breed well in captivity; the captive population has been in decline for 15 years. Rather than admit that belugas have adapted poorly to confinement and should no longer be displayed, as The Humane Society of the United States and many other groups believe, the Georgia Aquarium; the three SeaWorld parks in Florida, Texas and California; the John G. Shedd Aquarium in Chicago; and the Mystic Aquarium in Connecticut are doubling down on a bad investment... http://articles.orlandosentinel.com/2012-10-26/opinion/os-ed-whales-sea-world-102612-20121025_1_beluga-whales-killer-whales-wild-whales
Living On Earth
SINGING WITH BELUGAS
================================
THE BRUTAL DOLPHIN SLAUGHTERS IN TAIJI JAPAN
National Geographic, February 02, 2014
▶ REAL TRAGEDY OF TAIJI IS OUR INHUMANITY TOWARD ANIMALS http://news.nationalgeographic.com/news/2014/02/140202-dolphins-taiji-japan-whales-marine-animal-altruism-science/
YES! Magazine, January 29, 2014
▶ GROWING CONCERN OVER JAPAN'S DOLPHIN HUNT LEADS TO WIDESPREAD OUTCRY http://www.yesmagazine.org/planet/behind-the-changing-reaction-to-japanese-dolphin-slaughter
About Whales and Dolphins, January 22, 2014
▶ PRESSURE GROWS ON BRUTAL DOLPHIN HUNTS AS GERMAN MINISTER SPEAKS OUT http://uk.whales.org/blog/courtneyvail/2014/01/pressure-grows-on-dolphin-hunts-german-minister-speaks-out
August 29, 2013 PR Web
▶ PUBLIC URGED TO PROTEST AGAINST BLOODY SLAUGHTER OF DOLPHINS AND PORPOISES http://www.prweb.com/releases/2013/8/prweb11074028.htm
NICE WATCH
NOVA - Full Episode (56:42)
PRIVATE LIVES OF DOLPHINS
Published on May 20, 2012
NOVA offers a rare glimpse into the private lives of dolphins with amazing scientific evidence collected over nearly 30 years. Enjoy this unprecedented look at the rarely seen underwater world of dolphins.
http://www.youtube.com/watch?v=YPZeQlEYuZs
VIDEO
Sydney Morning Herald, January 21, 2014
▶ JAPAN HITS BACK OVER KENNEDY CRITICISM OF DOLPHIN SLAUGHTER http://www.smh.com.au/world/japan-hits-back-over-kennedy-criticism-of-dolphin-slaughter-20140121-hv9cx.html
Guardian January 19, 2014
▶ US AMBASSADOR TO JAPAN, CAROLINE KENNEDY, 'DEEPLY CONCERNED' ABOUT DOLPHIN DRIVE-HUNT SLAUGHTER http://www.theguardian.com/world/2014/jan/19/us-ambassador-japan-caroline-kennedy-dolphin-drive-hunting
Reuters, January 21, 2014
▶ JAPAN FISHERMEN TAKE COVER TO BRUTUALLY SLAUGHTER DOLPHINS N FACE OF WESTERN CRITICISM http://uk.reuters.com/article/2014/01/21/uk-japan-environment-dolphins-idUKBREA0K05F20140121

Yahoo News, January 22, 2014
▶ BRUTAL JAPAN DOLPHIN HUNT GOES ON AFTER PREVIOUS DAYS BLOODY SLAUGHTER. Tokyo (AFP) - Japanese fishermen were out at sea attempting to trap more dolphins on Wednesday, campaigners said, after the bloody slaughter of dozens of the animals the previous day was hidden from view behind screens.
Clouds of blood drifted through the waters of the cove in Taiji on Tuesday as metal spikes were driven into the spinal columns of bottlenose dolphins that had been trapped for several days, environmentalists said... http://news.yahoo.com/japan-dolphin-hunt-goes-slaughter-campaigners-044942252.html
Channel NewsAsia, January 24, 2014
▶ YOKO ONO ASKS JAPANESE FISHERMEN TO TOP HUNTING AND SLAUGHTERING DOLPHINS http://www.channelnewsasia.com/news/asiapacific/yoko-ono-asks-japan/961122.html
WATCH - CNN
January 20, 2014
▶ HERDED DOLPHIN PODS TO BE SLAUGHTERED IN JAPAN'S TAIJI COVE http://edition.cnn.com/2014/01/20/world/asia/japan-dolphin-hunt/index.html
Oceanic Preservation Society, January 20, 2014
▶ AN ANGEL CAPTURED IN THE COVE https://www.thedodo.com/community/OceanicPreservationSociety/an-angel-captured-in-the-cove-396618171.html
▶ LIVE-STREAMING A NIGHTMARE: JAPAN'S DOLPHIN HUNT https://www.thedodo.com/live-streaming-a-nightmare-jap-394460102.html
▶ LIVESTREAM DOLPHIN PROJECT: Follow Ric O'Barry as he travels the world to end dolphin exploitation and slaughter.. World News http://www.ustream.tv/dolphinproject
▶ OUTRAGE: BOTTLENOSE DOLPHINS STILL BEING HELD IN TAIJI COVE DEATH CHAMBER http://sco.lt/6p8IDJ
The Japan Times, August 1, 2007
▶ TAIJI OFFICIALS: DOLPHIN MEAT 'TOXIC WASTE'. Warn of acute mercury risk in school lunches http://www.japantimes.co.jp/life/2007/08/01/environment/taiji-officials-dolphin-meat-toxic-waste/#.Ut3gl_bTlcw

▶ DOLPHIN SLAUGHTER TURNS SEA RED AS JAPAN HUNTING EASON RETURNS http://sco.lt/79Vu0P
WATCH
Award Winning "THE COVE" 92 min
Free Documentary Online
http://topdocumentaryfilms.com/cove/
August 29, 2013 Huffington Post Green, Candace Calloway Whiting
▶ HAWAII'S CAPTIVE DOLPHINS LINKED TO THE TAIJI, JAPAN BRUTAL ANNUAL CAPTURES STARTING SEPT 1 http://www.huffingtonpost.com/candace-calloway-whiting/hawaiis-captive-dolphins_b_3831980.html
WHEN OUR OCEANS RUN RED
Beyond "The Cove"
http://thenaturaleye.wordpress.com/2009/08/30/when-our-oceans-run-red/
PETITION TO END THE FAROE ISLANDS' WHALE AND DOLPHIN SLAUGHTER http://www.unleashed.org.au/take_action/petitions/stop-the-faroe-islands-whale-slaughter/
-------------------------------------------
HOME AQUARIUMS, INVASIVE SPECIES
--------------------------------------

Home Aquariums
'FINDING NEMO' PETS HARM OCEAN ECOLOGY http://www.independent.co.uk/environment/finding-nemo-pets-harm-ocean-ecology-565398.html
July 25, 2013 Mongabay
▶ 30% OF FISH EXPORTED FROM INDIA IN PAST SEVEN YEARS WERE RARE AND THREATENED FRESHWATER FISH PLUNDERED FOR $30 BILLION AQUARIUM TRADE http://news.mongabay.com/2013/0725-smith-aquarium-trade-india.html
UNEARTH News
SWITCHING FROM CYANIDE TO NETS IN BALI - FOR HOME AQUARIUMS http://unearthnews.org/about/multimedia/
August 29, 2013 PR Web
▶ PUBLIC URGED TO PROTEST AGAINST BLOODY SLAUGHTER OF DOLPHINS AND PORPOISES http://www.prweb.com/releases/2013/8/prweb11074028.htm
-----------------------------------------------
MORE
-▶ PERU: MASS DOLPHIN AND PELICAN DIE-OFF FOUND STARVING: WE ARE OVERFISHING OUR OCEANS AT AN ALARMING RATE
http://www.channel4.com/news/what-is-behind-mass-pelican-and-dolphin-deaths-in-peru
▶ DOLPHINS DYING IN DROVES AND SCIENTIST CAN'T STOP IT: DEEPWATER HORIZON OIL SPILL 3 YEARS LATER http://sco.lt/5cPoG1