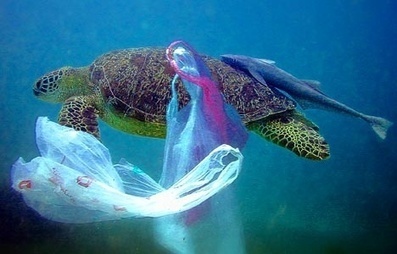 Global Possibilties, December 26, 2014
ONE THING WE'VE LEARNED FROM THE SEARCH FOR FLIGHT MH370: THERE'S A LOT OF TRASH IN THE OCEAN http://www.globalpossibilities.org/one-thing-weve-learned-from-the-search-for-flight-mh370-theres-a-lot-of-trash-in-the-ocean/
MailOnLine, February 08, 2012
▶ SPERM WHALES: HOW PLASTIC BAGS ARE POISONING THE PLANET'S GREATEST PREDATORS: 65ft long sperm whales are being killed by human pollution http://www.dailymail.co.uk/news/article-2096142/Sperm-whales-How-plastic-bags-poisoning-planets-greatest-predators.html
NRDC VIDEO
PLASTIC POLLUTION IN OCEANS - WHAT IT MEANS TO YOU
http://www.nrdc.org/oceans/plastic-ocean/
\Climate Progress, March 31, 2014
▶ PLASTIC SOUP OF OCEAN GARBAGE OBSCURES SEARCH FOR MALAYSIA PLANE DEBRIS http://thinkprogress.org/climate/2014/03/31/3420870/ocean-garbage-malaysia-airplane-search/
▶ OUR PLASTICS WILL POLLUTE OCEANS FOR HUNDREDS OF YEARS http://sco.lt/7tYlQ9
April 13, 2013 - Deutsche Welle: Environment & Development »
▶ THE FIGHT AGAINST THE EPIDEMIC OF OCEAN FLOATING GARBAGE http://www.dw.de/the-fight-against-floating-garbage/a-16742622?maca=en-rss-en-environment-4553-rdf
KUOW News, November 22, 2013
▶ STUDY: EATING PLASTIC CAUSE TUMORS, LIVER PROBLEMS IN FISH -- AND YOU? http://kuow.org/post/study-eating-plastic-causes-tumors-liver-problems-fish
▶ INFOGRAPHIC
EarthTouch
WHY WE'RE EATING OUR OWN TRASH
http://www.earthtouch.tv/blog/article/infographic-why-were-eating-our-own-trash/?category=nature-news
29 March, 2013 - Elephant Journal
▶ OCEAN PLASTICS IMPACT ON WILD SEA TURTLES
Our plastic footprint is on remote beaches, in isolated patches of ocean and in the stomachs of wild endangered animals.... http://www.elephantjournal.com/2013/03/ocean-plastics-impact-on-wild-sea-turtles-dr-wallace-j-nichols/
August 19, 2013 Mother Nature Network
▶ RARE SEA TURTLES EATING PLASTIC AT RECORD RATES http://www.mnn.com/earth-matters/animals/blogs/rare-sea-turtles-eating-plastic-at-record-rate
WATCH:
DO WE HAVE THE COURAGE?
A Moving Short Film About MIDWAY by Chris Jordan - http://www.scoop.it/t/our-oceans-need-us/p/1061944409/midway-a-short-film-by-chris-jordan-do-we-have-the-courage
▶ MERMAID TEARS:
MICROBEADS AND MICROPLASTICS IN BEAUTY PRODUCTS A THREAT TO OUR OCEAN AND RIVERS http://sco.lt/50DEtV
WATCH
Documentary
▶ **** "PLASTICIZED:
An eye-opening story about the institute's global mission to study the effects, reality, and scale of plastic pollution around the world. The overwhelming contaminant that is secretly infiltrating all levels of sea life like a cancer... http://topdocumentaryfilms.com/plasticized/
The Star Online, January 13, 2014
▶ THE PLASTIC-SPHERE MENACE: A MAN-MADE ECOSYSTEM OF PLASTIC DEBRIS http://www.thestar.com.my/News/Environment/2014/01/13/The-plastisphere-menace-a-man-made-ecosystem-of-plastic-debris/
Mongabay, February 26, 2014
▶ PLASTIC WASTE INGESTED BY LUGWORMS THREATENS MARINE FOOD CHAINS According to the study, the lugworms feed less and breed less in areas heavily contaminated by microplastics and the harmful chemicals used to manufacture them. These include plasticizers, dyes and antimicrobials which, when discarded into the ocean, may also harm a multitude of sea creatures both large and small... http://news.mongabay.com/2014/0226-barrett-plastic-thereatens-marine-worms.html
INFOGRAPHIC
▶ THE TRUTH ABOUT PLASTIC AND ITS IMPACT ON OUR PLANET - Is temporary convenience worth the 400 to 1000 years it takes plastic silverware to break down? http://holykaw.alltop.com/the-truth-about-plastic-and-its-impact-on-our-planet-infographic
Summit Voice, January 3, 2014
▶ STUDY DOCUMENTS PLASTIC POLLUTION IN THAMES -
Plastic pollution becoming ubiquitous in world's waterways and oceans
http://summitcountyvoice.com/2014/01/03/study-documents-plastic-pollution-in-thames/
VIDEO:
▶ "WHEN THE MERMAIDS CRY:
THE GREAT PLASTIC TIDE?
NPR, December 13, 2013
▶ HOW PLASTIC IN THE OCEAN IS CONTAMINATING YOUR SEAFOOD http://www.npr.org/blogs/thesalt/2013/12/12/250438904/how-plastic-in-the-ocean-is-contaminating-your-seafood
July 26, 2013 Treehugger
▶ HAWAII'S PREDATORY FISH ARE EATING PLASTIC - AND WE'RE EATING THEM http://www.treehugger.com/ocean-conservation/hawaiis-predatory-fish-are-eating-plastic.html
Mother Jones, March 03, 2014
▶ HOW INDUSTRY AND THE FEDS SUPPRESSED EVIDENCE THAT PLASTICS WREAK HAVOC ON OUR HORMONES http://www.motherjones.com/environment/2014/03/regulatory-capture-bpa-plastic-estrogen-endocrine-disruptor-feds
Science Reports, November 21, 2013
▶ INGESTED PLASTIC TRANSFERS HAZARDOUS CHEMICALS TO FISH AND INDUCES HEPATIC STRESS http://www.nature.com/srep/2013/131121/srep03263/full/srep03263.html
VIDEO:
CHRIS JORDAN ON THE MIDWAY PROJECT - YouTube http://www.youtube.com/watch?v=-M9t2fm__K0&feature=player_embedded#!
▶ OUR OCEANS ARE DROWNING IN PLASTIC http://sco.lt/5ZYbZ3
VIDEO:
PLASTIC ISLAND:
Plastics Are Everywhere, In Everything and They're Killing Us
http://ensia.com/videos/plastic-island/
TakePart, November 04, 2013
▶ THE SURPRISING LINK BETWEEN SAVING THE OZONE AND RIDDING THE OCEANS FROM OCEAN PLASTIC POLLUTION http://www.takepart.com/article/2013/11/06/link-between-saving-ozone-and-saving-our-oceans-plastic-pollution
▶ WHY ARE BRITISH FISH EATING PLASTIC? SERIOUS FOR FISH, SERIOUS FOR YOU AND OUR FOOD CHAIN http://sco.lt/54HFsf
May 26, 2013 The Environmental Magazine
▶ MID-OCEAN PLASTICS CLEANUP SCHEMES: TOO LITTLE TOO LATE? http://www.emagazine.com/blog/mid-ocean-plastics-cleanup-schemes-too-little-too-late/
▶ PLASTIC IN 'GREAT PACIFIC GARBAGE PATCH' HAS INCREASED 100-FOLD - Killing Ocean Life and Ecosystem | Common Dreams https://www.commondreams.org/headline/2012/05/09-2
18 January 2012 Common Dreams
▶ A NEWLY DISCOVERED 'PLASTIC ISLAND' SHOWS GLOBAL EPIDEMIC WORSENING http://www.commondreams.org/headline/2013/01/18-3A
-- WATCH -
KILL PLASTIC NOT WILDLIFE
http://www.youtube.com/watch?v=TTQywfyECs0&sns=em
▶ THE WORLD'S LARGEST 'WASTE DUMP' IS FOUND IN THE PACIFIC OCEAN http://sco.lt/5F1E8H
▶ FUKUSHIMA: THE BIGGEST, SINGLE DUMPING OF TRASH INTO OUR OCEAN -- MORE PLASTIC http://sco.lt/7aFK1R
CNN VIDEO REPORT
11 March 2013
JAPANESE TSUNAMI DEBRIS
PLASTIC MAKES IT WAY INTO HAWAIIAN BIRDS
http://edition.cnn.com/2013/03/11/us/hawaii-japan-tsunami-debris
▶ TOMORROW'S LIFE-SAVING MEDICATIONS MAY CURRENTLY BE LIVING AT THE BOTTOM OF THE SEA - KEEP OUR OCEANS CLEAN AND HEALTHY http://sco.lt/7tJmK1
VIDEO
CNN Video Report -
27 March, 2013 -
OVERFISHED AND UNDER-PROTECTED:
OCEANS ON THE BRINK OF COLLAPSE
http://edition.cnn.com/2013/03/22/world/oceans-overfishing-climate-change/index.html?hpt=ias_t2
The Argus, March 03, 2014
▶ FISHERMAN CATCHES MONSTER COD AND FINDS PLASTIC BOTTLE INSIDE ITS BELLY. Jess Price, conservation officer at the Sussex Wildlife Trust, said marine litter was a "huge problem" and 75% of all litter recorded in the sea was plastic. She said: "The main issue is that marine life ingests it. The problem is plastic never biodegrades, it is there forever. "If something swallows a balloon or bottle then it's taking up space in its stomach and can cause them to starve. http://www.theargus.co.uk/news/11047823.display/
▶ SEA CHANGE - THE LOSS OF OCEAN SPECIES IS STAGGERING http://sco.lt/8AV5qz