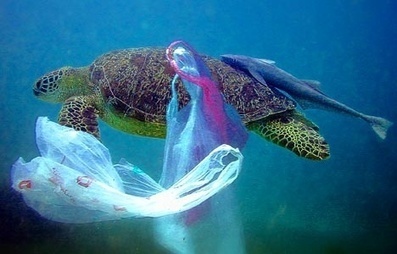 Guardian, December 10, 2014
▶ FULL SCALE OF PLASTIC IN WORLD'S OCEANS REVEALED FOR FIRST TIME http://www.theguardian.com/environment/2014/dec/10/full-scale-plastic-worlds-oceans-revealed-first-time-pollution
TreeHugger, April 08, 2015
▶ MORE BAD NEWS FOR POLAR BEARS, AND IT'S NOT CLIMATE CHANGE http://www.treehugger.com/endangered-species/more-bad-news-polar-bears-and-its-not-climate-change.html
INFOGRAPHIC
THE TRUTH ABOUT PLASTIC AND ITS IMPACT ON OUR PLANET
- Is temporary convenience worth the 400 to 1000 years it takes plastic silverware to break down? http://holykaw.alltop.com/the-truth-about-plastic-and-its-impact-on-our-planet-infographic
New York Times, August 25, 2014
▶ CHOKING THE OCEANS WITH PLASTIC The world is awash in plastic. It's in our cars and our carpets, we wrap it around the food we eat and virtually every other product we consume; it has become a key lubricant of globalization — but it's choking our future in ways that most of us are barely aware. Plastics are now one of the most common pollutants of ocean waters worldwide. Pushed by winds, tides and currents, plastic particles form with other debris into large swirling glutinous accumulation zones, known to oceanographers as gyres, which comprise as much as 40 percent of the planet's ocean surface — roughly 25 percent of the entire earth... http://www.nytimes.com/2014/08/26/opinion/choking-the-oceans-with-plastic.html
New Scientist, February 12, 2015
▶ OCEANS SWALLOWED 13 MILLION TONS OF PLASTIC IN 2010. Vast floating islands of plastic are just a drop in the ocean compared with what's lurking deeper down. Between 5 and 13 million tonnes of plastic debris entered the marine environment in 2010 - and most of it is under water. What's more, without improvements in the way we manage waste, it could be 10 times as much each year by 2025... http://www.newscientist.com/article/dn26958-oceans-swallowed-13-million-tonnes-of-plastic-in-2010.html
The Scotsman, March 25, 2015
▶ PLASTIC POLLUTION FOUND INSIDE DEAD SEABIRDS http://www.scotsman.com/news/environment/plastic-pollution-found-inside-dead-seabirds-1-3729064
VIDEO:
CHRIS JORDAN ON THE MIDWAY PROJECT - YouTube http://www.youtube.com/watch?v=-M9t2fm__K0&feature=player_embedded#!
Huffington Post Hawaii, June 1, 2014
▶ PLASTIGLOMERATE: THE NEW AND HORRIBLE WAY HUMANS ARE LEAVING THEIR MARK ON THE PLANET http://www.huffingtonpost.com/2014/06/19/plastiglomerate_n_5496062.html?ir=Hawaii
Summit County Citizens Voice, March 26, 2015
▶ STUDY SHOWS ENDROCINE DISRUPTING CHEMICALS (BPA FROM PLASTICS) CAN AFFECT MULTIPLE GENERATIONS OF FISH http://summitcountyvoice.com/2015/03/26/environment-study-shows-endocrine-disrupting-chemicals-can-affect-multiple-generations-of-fish/
REPORT
Environmental Health Perspectives, February 2015
NEW LINK IN THE FOOD CHAIN? MARINE PLASTIC POLLUTION AND SEAFOOD SAFETY http://ehp.niehs.nih.gov/123-A34/
▶ CHEMICAL FROM PLASTIC WATER BOTTLE FOUND THROUGHOUT OCEANS - BIO-ACCUMULATES UP FOOD CHAIN http://sco.lt/5ogIGf
Institute of Science in Society, February 02, 2015
▶ PLASTIC POISONS IN THE FOOD CHAIN - Bioaccumulate chemical pollutants absorbed on microplastics http://www.i-sis.org.uk/Plastic_Poisons_in_the_Food_Chain.php
NPR, December 13, 2013
▶ HOW PLASTIC IN THE OCEAN IS CONTAMINATING YOUR SEAFOOD http://www.npr.org/blogs/thesalt/2013/12/12/250438904/how-plastic-in-the-ocean-is-contaminating-your-seafood
Science Reports, November 21, 2013
▶ INGESTED PLASTIC TRANSFERS HAZARDOUS CHEMICALS TO FISH AND INDUCES HEPATIC STRESS http://www.nature.com/srep/2013/131121/srep03263/full/srep03263.html
University of California, San Diego, March 09, 2012
▶ FISH INGEST UP TO 24,000 TONS OF PLASTIC EACH YEAR: PACIFIC GARBAGE PATCH 100 TIMES LARGER THAN IN 1972 -- AND WE THEN EAT THEM http://dgrnewsservice.org/2012/05/09/pacific-garbage-patch-100x-larger-than-in-1972-fish-ingest-up-to-24000-tons-of-plastic-each-year/
VIDEO
SAILING PAST PLASTIC
The Story of Stuff Project
http://storyofstuff.org/podcasts/sailing-past-plastic/
National Geographic, March 25, 2015
▶ THE AZORES: FIRST WITNESS TO GLOBAL MARINE PLASTIC POLLUTION http://voices.nationalgeographic.com/2015/03/25/the-azores-first-witness-island-of-the-r4wo/
Summit County Citizens Voice, March 25, 2015
▶ DEEP-SEA FISH NOT IMMUNE TO POLLUTION http://summitcountyvoice.com/2015/03/25/environment-deep-sea-fish-not-immune-to-pollution/
The Guardian, January 25, 2015
▶ DROWNING IN PLASTIC - THE WORLD'S NEXT ECOLOGICAL DISASTER http://www.theguardian.com/environment/2015/jan/25/drowning-in-plastic-rubbish-in-oceans-ecological-emergency
The Province, Februay 19, 2015
-▶ OCEAN WASTE HITS HOME: PLASTIC-FILLED FISH GUTS RUINS CHILLIWACK MAN'S CATCH http://www.theprovince.com/technology/Ocean+waste+hits+home+Plastic+filled+fish+guts+ruins+Chilliwack+catch/10827599/story.html
VIDEO, SLIDESHOW
Epoch Times, June 15, 2014
PLASTIC KILLS: A SLOW DEATH AWAITS SEA LIFE http://www.theepochtimes.com/n3/736972-plastic-kills-here-is-why-2/
EcoWatch, February 25, 2015
-▶ DAVID SUZUKI: WE HAVE TO STOP KILLING OUR OCEANS WITH PLASTIC http://ecowatch.com/2015/02/25/david-suzuki-stop-killing-oceans-plastic/
▶ HOW PLASTIC BAGS ARE POISONING THE PLANET'S GREATEST PREDATORS - SPERM WHALES http://www.scoop.it/t/our-oceans-need-us/p/1126825026/sperm-whales-how-plastic-bags-are-poisoning-the-planet-s-greatest-predators
SafeBee, January 16, 2015
▶ PLASTIC: A BUNCH OF SERIOUSLY GOOD REASONS TO JUST SAY NO http://www.safebee.com/blogs/home/plastic-bunch-seriously-good-reasons-just-say-no
PLOS ONE, December 10, 2014
PLASTIC IN OUR FOOD CHAIN
PLASTIC POLLUTION IN THE WORLD'S OCEANS" MORE THAN 5 TRILLION PLASTIC PIECES WEIGHING OVER 250,000 TONS AFLOAT AT SEA http://www.plosone.org/article/info%3Adoi%2F10.1371%2Fjournal.pone.0111913
TakePart, February 20, 2015
-▶ OCEAN PLASTIC POLLUTION'S SHOCKING DEATH TOLL ON ENDANGERED ANIMALS. Scientists find that hundreds of species are being harmed or killed by the trash we toss into the seas. http://takepart.com/article/2015/02/20/ocean-plastic-pollutions-shocking-death-toll-endangered-animals
Phys.org, February 24, 2015
-▶ FEARS OVER CORAL EATING PLASTIC IN AUSTRALIA'S GREAT BARRIER REEF. Corals in the Great Barrier Reef are eating small plastic debris in the ocean, Australian researchers raising fears about the impact the indigestible fragments have on their health and other marine life. Read more at: http://phys.org/news/2015-02-plastic-eating-coral-australia-barrier-reef.html#jCp
Summit County Citizens Voice, February 20, 2015
-▶ PLASTIC DEBRIS TAKES TOLL ON ENDANGERED SPECIES. In all, nearly 700 species of marine animals have been recorded as having encountered man-made debris such as plastic and glass, the scientists said after looking at records of 44,000 animals and organisms that became entangled in, or swallowed debris. http://summitcountyvoice.com/2015/02/20/environment-plastic-debris-taking-toll-on-endangered-species/
DailyMailOnline, September 24, 2014
▶ HOW OUR ADDICTION TO PETROLEUM-BASED PLASTIC IS TURNING THE OCEANS AND FOOD CHAIN TOXIC http://www.dailymail.co.uk/news/article-2768849/A-planet-drowning-plastic-A-floating-Pacific-garbage-patch-size-Wales-Seabirds-whales-dying-horrible-deaths-How-addiction-plastic-turning-oceans-toxic.html
Planet Experts, January 16, 2015
-▶ HOW MUCH PLASTIC IS ENTERING THE OCEAN? http://www.planetexperts.com/much-plastic-entering-ocean/
WATCH:
DO WE HAVE THE COURAGE?
A Moving Short Film About MIDWAY by Chris Jordan - http://www.scoop.it/t/our-oceans-need-us/p/1061944409/midway-a-short-film-by-chris-jordan-do-we-have-the-courage
Guardian, February 12, 2015
▶ OCEAN PLASTIC IS LIKELY DISAPPEARING INTO THE FOOD CHAIN, NEW STUDY INDICATES http://www.theguardian.com/vital-signs/2015/feb/12/science-plastic-oceans-study-fish-pollution-worse
Nature World News, January 08, 2014
▶ MARINE DEBRIS DEADLY TO WHALES, DOLPHINS. You might think twice before tossing a piece of plastic into the garbage rather than a recycling bin when you hear how deadly marine debris, such as floating plastic, is to whales, dolphins and other sea creatures. http://www.natureworldnews.com/articles/11752/20150108/marine-debris-deadly-to-whales-dolphins.htm
Conservation Magazine, February 12, 2014
▶ PLASTIC INGESTION BY SEABIRDS IS WORSE THAN YOU THOUGHT http://conservationmagazine.org/2014/02/plastic-ingestion-seabirds-worse-thought/
The Argus, March 03, 2014
▶ FISHERMAN CATCHES MONSTER COD AND FINDS PLASTIC BOTTLE INSIDE ITS BELLY. Jess Price, conservation officer at the Sussex Wildlife Trust, said marine litter was a "huge problem" and 75% of all litter recorded in the sea was plastic. She said: "The main issue is that marine life ingests it. The problem is plastic never biodegrades, it is there forever. "If something swallows a balloon or bottle then it's taking up space in its stomach and can cause them to starve. http://www.theargus.co.uk/news/11047823.display/
MailOnLine, February 08, 2012
▶ SPERM WHALES: HOW PLASTIC BAGS ARE POISONING THE PLANET'S GREATEST PREDATORS: 65ft long sperm whales are being killed by human pollution http://www.dailymail.co.uk/news/article-2096142/Sperm-whales-How-plastic-bags-poisoning-planets-greatest-predators.html
Green Living, February 05, 2015
▶ WHICH FAST FOOD COMPANIES ARE POLLUTING OUR OCEAN THE MOST? http://www.care2.com/greenliving/which-big-companies-are-polluting-our-oceans-the-most.html
Guardian Sustainable Business, January 26, 2015
▶ WE COULD END UP WITH 'AS MUCH PLASTIC IN OUR OCEANS AS FISH' http://www.theguardian.com/sustainable-business/2015/jan/26/plastic-oceans-environment-waste-recycling-fish
EcoWatch, July 03, 2014
▶ 5 GYRES INSTITUTE FINDS PLASTIC IN EVERY OCEAN SAMPLE FROM BERMUDA TO ICELAND http://ecowatch.com/2014/07/03/5-gyres-plastic-ocean/
National Geographic, July 18, 2014
▶ WHERE HAS IT ALL GONE? FIRST OF ITS KIND MAP REVEALS EXTENT OF OCEAN PLASTIC http://news.nationalgeographic.com/news/2014/07/140715-ocean-plastic-debris-trash-pacific-garbage-patch/
Common Dreams
▶ PLASTIC IN 'GREAT PACIFIC GARBAGE PATCH' HAS INCREASED 100-FOLD - Killing Ocean Life and Ecosystem https://www.commondreams.org/headline/2012/05/09-2
=================
MICRO FIBERS, MICROPLASTICS
=================
Frontiers, December 03, 2014
▶ INGESTION OF PLASTICS AT SEA: DOES DEBRIS SIZE REALLY MATTER? http://journal.frontiersin.org/Journal/10.3389/fmars.2014.00070/full
MERMAID TEARS:
MICROBEADS AND MICROPLASTICS IN BEAUTY PRODUCTS
A THREAT TO OUR OCEAN AND RIVERS
UNEP, June 23, 2014
▶ PLASTIC WASTE CAUSES FINANCIAL DAMAGE OF US$13 BILLION TO MARINE ECOSYSTEMS EACH YEAR AS CONCERN GROWS OVER MICROPLASTICS http://www.unep.org/newscentre/Default.aspx?DocumentID=2791&ArticleID=10903&l=en
VIDEO:
"WHEN THE MERMAIDS CRY:
THE GREAT PLASTIC TIDE?
=========================
June 16, 2014
▶ THE GREAT PACIFIC GARBAGE PATCH: WE ARE LITERALLY FILLING UP THE PACIFIC OCEAN WITH PLASTIC http://endoftheamericandream.com/archives/the-great-pacific-garbage-patch-we-are-literally-filling-up-the-pacific-ocean-with-plastic
New Scientist, May 3, 2014
▶ PLASTIC RUBBISH TAKES EGG'S PLACE IN ALBATROSS NEST. Our rubbish has reached the farthest corners of the Earth. Albatrosses feed some 5 tons of plastic each year to their chicks, with fatal results as seen in a series of shocking images by photographer Chris Jordan. http://www.newscientist.com/article/dn25656-plastic-rubbish-takes-eggs-place-in-albatross-nest.html#.U4jCTy_O7NU
29 March, 2013 - Elephant Journal
▶ OCEAN PLASTICS IMPACT ON WILD SEA TURTLES
Our plastic footprint is on remote beaches, in isolated patches of ocean and in the stomachs of wild endangered animals.... http://www.elephantjournal.com/2013/03/ocean-plastics-impact-on-wild-sea-turtles-dr-wallace-j-nichols/
August 19, 2013 Mother Nature Network
▶ RARE SEA TURTLES EATING PLASTIC AT RECORD RATES http://www.mnn.com/earth-matters/animals/blogs/rare-sea-turtles-eating-plastic-at-record-rate
KUOW News, November 22, 2013
▶ STUDY: EATING PLASTIC CAUSE TUMORS, LIVER PROBLEMS IN FISH -- AND YOU? http://kuow.org/post/study-eating-plastic-causes-tumors-liver-problems-fish
July 26, 2013 Treehugger
▶ HAWAII'S PREDATORY FISH ARE EATING PLASTIC - AND WE'RE EATING THEM http://www.treehugger.com/ocean-conservation/hawaiis-predatory-fish-are-eating-plastic.html
Mother Jones, March 03, 2014
▶ HOW INDUSTRY AND THE FEDS SUPPRESSED EVIDENCE THAT PLASTICS WREAK HAVOC ON OUR HORMONES http://www.motherjones.com/environment/2014/03/regulatory-capture-bpa-plastic-estrogen-endocrine-disruptor-feds
Living on Earth, March 14, 2014
▶ THE SCARY NEW EVIDENCE ON BPA PLASTIC: AN ABSOLUTELY MIND-BOGGLING INVESTIGATION INTO THE CHEMICAL INDUSTRY TACTICS TO KEEP YOU IN THE DARK ABOUT TOXIC PRODUCTS & EXPOSURE http://www.loe.org/shows/segments.html?programID=14-P13-00011&segmentID=4
▶ WHY ARE BRITISH FISH EATING PLASTIC? SERIOUS FOR FISH, SERIOUS FOR YOU AND OUR FOOD CHAIN http://sco.lt/54HFsf
The Scotsman, October 13, 2014
▶ SCOTLAND: OTTERS DYING EARLY BECAUSE OF POISONED SEAS
Scottish otters are only living a third of the lifespan of those on mainland Europe because of poisoned seas, a leading expert on the species has warned. Zoologist Dr Paul Yoxon said chemicals in everyday products are accumulating in fish and shellfish on which the mammals feed, weakening their immune systems.
The zoologist, who runs the International Otter Survival Fund (IOSF) on Skye with his biologist wife Grace, said hormone-disrupting chemicals, commonly found in shampoos and plastics, are also believed to be behind shrinking genitals of the male otter, affecting reproduction rates...http://www.scotsman.com/news/environment/otters-dying-early-because-of-poisoned-seas-1-3570722
NRDC VIDEO
PLASTIC POLLUTION IN OCEANS - WHAT IT MEANS TO YOU
http://www.nrdc.org/oceans/plastic-ocean/
▶ OUR PLASTICS WILL POLLUTE OCEANS FOR HUNDREDS OF YEARS http://sco.lt/7tYlQ9
National Geographic, June 08, 2013
▶ WITH MILLIONS OF TONS OF PLASTIC IN OCEANS, MORE SCIENTISTS STUDYING IMPACT http://news.nationalgeographic.com/news/2014/06/140613-ocean-trash-garbage-patch-plastic-science-kerry-marine-debris/
==============
PLASTIC BAGS
==============
-▶ CORPORATIONS vs THE PEOPLE: SHOWDOWN IN CALIFORNIA WITH PLASTIC BAG INDUSTRY: CALIFORNIA BAN SUSPENDED.
Setting up a grand environmental showdown, a referendum initiated by the plastic bag industry to overturn California's first-in-the-nation law that bans supermarkets and other businesses from handing out single-use plastic bags has qualified for next year's ballot.
The immediate impact is the law, signed by Gov. Jerry Brown in September, will be suspended until the voters decide its fate in the November 2016 election. http://theterramarproject.org/thedailycatch/californias-suspends-plastic-bag-ban-due-to-ballot-referendum/
Alternet, December 31, 2014
▶ PLASTIC BAG MANUFACTURERS SPEND $3 MILLION IN EFFORT TO REPEAL CALIFORNIA BAN. The American Progressive Bag Alliance lobbyists have spent $3 million to collect signatures to place a repeal of the bill on the November 2016 ballot, saying that claims that the bags contribute to litter and pollution are overblown. http://www.alternet.org/environment/plastic-bag-manufacturers-spend-3-million-repeal-california-ban
One Green Planet, October 01, 2014
▶ 3 MARINE ANIMALS WHO ARE THRILLED ABOUT CALIFORNIA'S PLASTIC BAG BAN http://www.onegreenplanet.org/news/marine-animals-who-are-thrilled-about-californias-plastic-bag-ban/
THE PLASTICS INDUSTRY IS BIG BUSINESS
GreenBiz, April 06, 2015
HOW CAN AGRICULTURE SOLVE ITS $5.87 BILLION PLASTIC PROBLEM http://www.greenbiz.com/article/how-can-agriculture-solve-its-1-billion-plastic-problem
The Guardian, October 31, 2014
▶ FEDS WARN PLASTIC BAG MAKERS OVER MISLEADING BIODEGRADABLE CLAIM http://www.theguardian.com/sustainable-business/2014/oct/31/biodegradable-plastic-oxodegradable-bags-bioplastic-ftc-warning
Australian Broadcasting Corporation, March 25, 2015
▶ 'BIODEGRADABLE' PLASTICS DON'T LIVE UP TO MANUFACTURERS' CLAIMS. Plastics labelled biodegradable may not break down in landfill as advertised, according to new US research. http://www.abc.net.au/environment/articles/2015/03/25/4203912.htm
Treehugger, April 22, 2014
▶ PLASTIC BAG BANS ARE SPREADING IN THE UNITED STATES
http://www.treehugger.com/sustainable-product-design/plastic-bag-bans-spreading-united-states.html
HowStuffWorks
▶ HOW MANY CITIES WORLDWIDE HAVE A BAN ON PLASTIC BAGS? http://people.howstuffworks.com/how-many-cities-have-a-ban-on-plastic-bags.htm
Al Jazeera America, November 11, 2014
▶ CONVERTING PLASTIC BACK TO OIL FROM WHEN IT CAME http://america.aljazeera.com/articles/2014/11/11/the-afterlife-ofplastic.html
Sustainable Brands, December 31, 2014
▶ ONE COMPANY'S WASTE BECOMES ANOTHER'S BIOPLASTIC http://www.sustainablebrands.com/news_and_views/packaging/sustainable_brands/trending_year_bio-based_plastic_innovations
WATCH
Documentary
"PLASTICIZED:
An eye-opening story about the institute's global mission to study the effects, reality, and scale of plastic pollution around the world. The overwhelming contaminant that is secretly infiltrating all levels of sea life like a cancer... http://topdocumentaryfilms.com/plasticized/
WATCH
"INSIDE THE GARBAGE OF THE WORLD" (80 min)
Here is an informative and educational film about the environmental problem of plastic pollution inside the Oceans raising to a dangerous level to human safety and its solution. After the Japan Tsunami and the Fukushima disaster, pollution and radiation is traveling through the Pacific Ocean to the US. Oceanographers and Scientists show us how the real situation looks like. The film reveal the horrific scale of this disaster coming that nobody can see and imagine.. http://topdocumentaryfilms.com/inside-garbage-world/
April 13, 2013 - Deutsche Welle: Environment & Development »
▶ THE FIGHT AGAINST THE EPIDEMIC OF OCEAN FLOATING GARBAGE http://www.dw.de/the-fight-against-floating-garbage/a-16742622?maca=en-rss-en-environment-4553-rdf
ScienceDaily, February 19, 2015
-▶ GLOBAL IMPACT OF DEBRIS ON MARINE LIFE STUDIES: EVIDENCE OF 44,000 ANIMALS AND ORGANISMS BECOMING ENTANGLED IN, OR SWALLOWING DEBRIS http://www.sciencedaily.com/releases/2015/02/150219101643.htm
GHOST FISHING
DERELICT FISHING NETS HAVE TURNED THE SEA INTO A DEATH TRAP
June 25, 2013 Treehugger
▶ OCEAN SEA FLOOR COVERED IN TRASH: Researchers study 18,000 hours of deep sea footage, find ocean seafloor is covered in trash http://www.treehugger.com/ocean-conservation/researchers-study-18000-hours-deep-sea-footage-ocean-seafloor-covered-trash.html
Guardian Environment, May 01, 2014
▶ THE SHOCKING BUILD UP OF JUNK IN EUROPE'S SEAS http://www.theguardian.com/science/animal-magic/2014/may/01/junk-litter-europe-sea
Plos One Report, April 30, 2014
▶ MARINE LITTER DISTRIBUTION AND DENSITY IN EUROPEAN SEAS, FROM THE SHELVES TO DEEP BASINS http://www.plosone.org/article/info%3Adoi%2F10.1371%2Fjournal.pone.0095839
BBC News, May 01, 2014
▶ 'RETRO RUBBISH' WASHED UP ON UK BEACHES. Campaigners have released pictures of washed-up beach litter dating back to the 1960s. More than 25 tonnes of rubbish were collected at 130 SAS-organised beach clean events across the UK this spring http://www.bbc.com/news/uk-england-cornwall-27227481
-- WATCH -
KILL PLASTIC NOT WILDLIFE
http://www.youtube.com/watch?v=TTQywfyECs0&sns=em
CNN, June 24, 2014
▶ U.N. REPORT: OUR OCEANS ARE TRASHED IN PLASTIC . A series of new reports are raising concerns about the damage plastic waste is doing to oceans -- harming marine animals, destroying sensitive ecosystems, and contaminating the fish we eat. http://www.cnn.com/2014/06/24/world/ocean-plastic-trash/index.html
Inter Press Service, October 13, 2014
▶ MARINE LITTER: PLUNGING DEEP, SPREADING WIDE http://www.ipsnews.net/2014/10/marine-litter-plunging-deep-spreading-wide/
18 January 2012 Common Dreams
▶ A NEWLY DISCOVERED 'PLASTIC ISLAND' SHOWS GLOBAL EPIDEMIC WORSENING http://www.commondreams.org/headline/2013/01/18-3A
Elephant Journal, March 29, 2013
▶ OUR PLASTIC FOOTPRINT IS ON REMOTE BEACHES, IN ISOLATED PATCHES OF OCEAN AND IN THE STOMACHS OF WILD ENDANGERED ANIMALS http://www.elephantjournal.com/2013/03/ocean-plastics-impact-on-wild-sea-turtles-dr-wallace-j-nichols/
Huffington Post Green, April 28, 2014
▶ PLASTIC IS FOOD POISONING http://www.huffingtonpost.com/lisa-kaas-boyle/plastic-is-food-poisoning_b_5219189.html
INFOGRAPH
Huffpost Green, Aprl 22, 2014
THIS IS HOW YOUR PLASTIC BAG ENDS UP IN MASSIVE OCEAN GARBAGE PATCHES http://www.huffingtonpost.com/2014/04/22/plastic-ocean-garbage_n_5191294.html
▶ PLASTIC WASTE INCREASING ON REMOTE ARCTIC SEABED, CAMERA REVEALS http://www.scoop.it/t/our-oceans-need-us/p/3086644637/plastic-waste-increasing-on-remote-arctic-seabed-cameras-reveal
WATCH:
Ecowatch, April 07, 2014
22 FACTS ABOUT PLASTIC POLLUTION (And 20 thing We Can Do About It) Plastic is An Epidemic. Billions of pounds of plastic polluting our oceans, seafood and YOU http://ecowatch.com/2014/04/07/22-facts-plastic-pollution-10-things-can-do-about-it/
▶ OUR OCEANS ARE DROWNING IN PLASTIC http://sco.lt/5ZYbZ3
Climate Progress, March 31, 2014
▶ PLASTIC SOUP OF OCEAN GARBAGE OBSCURES SEARCH FOR MALAYSIA PLANE DEBRIS http://thinkprogress.org/climate/2014/03/31/3420870/ocean-garbage-malaysia-airplane-search/
▶ THE WORLD'S LARGEST 'WASTE DUMP' IS FOUND IN THE PACIFIC OCEAN http://sco.lt/5F1E8H
INFOGRAPHIC
EarthTouch
WHY WE'RE EATING OUR OWN TRASH
http://www.earthtouch.tv/blog/article/infographic-why-were-eating-our-own-trash/?category=nature-news
The Star Online, January 13, 2014
▶ THE PLASTIC-SPHERE MENACE: A MAN-MADE ECOSYSTEM OF PLASTIC DEBRIS http://www.thestar.com.my/News/Environment/2014/01/13/The-plastisphere-menace-a-man-made-ecosystem-of-plastic-debris/
Summit Voice, January 3, 2014
▶ STUDY DOCUMENTS PLASTIC POLLUTION IN THAMES -
Plastic pollution becoming ubiquitous in world's waterways and oceans
http://summitcountyvoice.com/2014/01/03/study-documents-plastic-pollution-in-thames/
VIDEO:
PLASTIC ISLAND:
Plastics Are Everywhere, In Everything and They're Killing Us
http://ensia.com/videos/plastic-island/
TakePart, November 04, 2013
▶ THE SURPRISING LINK BETWEEN SAVING THE OZONE AND RIDDING THE OCEANS FROM OCEAN PLASTIC POLLUTION http://www.takepart.com/article/2013/11/06/link-between-saving-ozone-and-saving-our-oceans-plastic-pollution
May 26, 2013 The Environmental Magazine
▶ MID-OCEAN PLASTICS CLEANUP SCHEMES: TOO LITTLE TOO LATE? http://www.emagazine.com/blog/mid-ocean-plastics-cleanup-schemes-too-little-too-late/
INFOGRAPH
5 Gyres Institute
UNDERSTANDING PLASTIC POLLUTION THROUGH EXPLORATION, EDUCATION AND ACTION http://5gyres.org/
▶ TOMORROW'S LIFE-SAVING MEDICATIONS MAY CURRENTLY BE LIVING AT THE BOTTOM OF THE SEA - KEEP OUR OCEANS CLEAN AND HEALTHY http://sco.lt/7tJmK1
CNN VIDEO REPORT
11 March 2013
JAPANESE TSUNAMI DEBRIS
PLASTIC MAKES IT WAY INTO HAWAIIAN BIRDS
http://edition.cnn.com/2013/03/11/us/hawaii-japan-tsunami-debris
Care2, October 30, 2014
▶ A SEA FULL OF TRASH: TACKLING THE HUGE PLASTIC PROBLEM IN OUR OCEANS http://www.care2.com/causes/a-sea-full-of-trash-tackling-the-plastic-problem.html
▶ FUKUSHIMA: THE BIGGEST, SINGLE DUMPING OF TRASH INTO OUR OCEAN -- MORE PLASTIC http://sco.lt/7aFK1R
VIDEO
CNN Video Report -
27 March, 2013 -
OVER FISHED AND UNDER-PROTECTED:
OCEANS ON THE BRINK OF COLLAPSE
http://edition.cnn.com/2013/03/22/world/oceans-overfishing-climate-change/index.html?hpt=ias_t2
OUR OCEANS ARE DYING
MASS EXTINCTION MAY BE INEVITABLE
▶ SEA CHANGE - THE LOSS OF OCEAN SPECIES IS STAGGERING http://sco.lt/8AV5qz
Start Some Good
▶ PLASTIC OCEANS: A CROWDFUNDING FILM TO SAVE OUR OCEANS http://startsomegood.com/Venture/plastic_oceans/Campaigns/Show/plastic_oceans__a_documentary