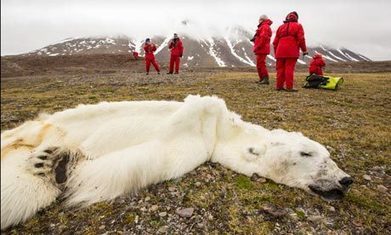 Feb 7, 2013 Yale Environment 360:
-▶ Drastic measures are required to save the beleaguered animal from extinction, say scientists... http://www.guardian.co.uk/environment/2013/feb/07/polar-bears-fed-by-humans-survive
Yahoo News, January 23, 014
-▶ POLAR BEARS HUNT ON LAND AS ICE SHRINKS http://news.yahoo.com/polar-bears-hunt-land-ice-shrinks-150721159.html
August 11, 2013 Care2
-▶ THIS POLAR BEAR STARVED TO DEATH BECAUSE OF CLIMATE CHANGE http://www.care2.com/causes/a-polar-bear-starves-to-death-climate-change-is-the-culprit.html
Feb 15, 2013 Living on Earth:
-▶ STARVING POLAR BEARS
Polar Bears have long been the poster species for the problem of climate change. But a new paper in Conservation Letters argues that supplemental feeding may be necessary to prevent polar bear populations from going extinct. Polar bear expert Andrew Derocher from the University of Alberta joins Host Steve Curwood to discuss how we can save the largest bear on the planet.http://www.loe.org/shows/segments.html?programID=13-P13-00007&segmentID=2
National Wildlife Federation, December 2, 2013
-▶ ALARMING POLAR BEAR DECLINE A CALL TO ACTION ON CLIMATE CHANGE http://www.nwf.org/News-and-Magazines/Media-Center/News-by-Topic/Global-Warming/2013/12-02-13-Alarming-Polar-Bear-Decline-a-Call-to-Action-on-Climate-Change.aspx
January 10, 2012 CBC News
-▶ CLIMATE CHANGE LEAVES SOME HUDSON BAY POLAR BEARS STARVING http://www.cbc.ca/news/canada/manitoba/story/2012/01/10/mb-starving-polar-bears-manitoba.html
Sustainablog, January 22, 2014
-▶ ARCTIC SEA ICE FREEFALL IS MIRROR IMAGE OF CARBON DIOXIDE ASCENT http://sustainablog.org/2014/01/arctic-sea-ice-freefall-is-mirror-image-of-carbon-dioxide-ascent/
International Fund for Animal Welfare, December 11, 2013
-▶ DRAMATIC IMPACTS OF CLIMATE CHANGE ON ANIMALS MUST BE ADDRESSED http://www.ifaw.org/international/news/dramatic-impacts-climate-change-animals-must-be-addressed
UNESCO, February 22, 2012
-▶ MARINE SCIENTIST ALARMED ABOUT INCREASING THREAT TO OCEAN ECOSYSTEMS. In the last 30 years, coastal resources such as mangroves, coral reefs and fishery resources have become depleted on a large scale. For example, more than 60 per cent of Asia's mangroves have already been converted to aquaculture farms (ESCAP and ADB, 2000). The region is losing its resource bases to support people's livelihoods and sustain future economic development. http://www.unescobkk.org/news/article/marine-scientists-alarmed-about-increasing-threats-to-ocean-ecosystems/
Summit Voice, February 15, 2014
-▶ GLOBAL WARMING: REPORT WARNS OF 'ARCTIC SQUEEZE'. An entire bio-climatic zone, the high Arctic, may disappear.
FRISCO — Rapid climate change in the Arctic is putting enormous pressure on ecosystems, threatening biodiversity and the fundamental way of life of indigenous Arctic peoples, scientists said in a major new report.
"An entire bio-climatic zone, the high Arctic, may disappear. Polar bears and the other highly adapted organisms cannot move further north, so they may go extinct. We risk losing several species forever," said Hans Meltofte of Aarhus University, chief scientist of the report.
http://summitcountyvoice.com/2014/02/15/global-warming-report-warns-of-arctic-squeeze/
-▶ OBAMA'S ARCTIC STRATEGY SETS OFF A CLIMATE TIME BOMB. THE SUICIDAL RACE FOR ARCTIC'S NATURAL RESOURCES http://sco.lt/5pPxWD
-▶ HEALTH OF OCEANS 'DECLINING FAST' - MASS EXTINCTION MAY BE INEVITABLE http://sco.lt/8ZyX6v
The Daily Beast, December 13, 2013
-▶ THE END OF THE ARCTIC? COULD BE ICE FREE BY 2015 http://www.thedailybeast.com/articles/2013/12/13/the-end-of-the-arctic-ocean-could-be-ice-free-by-2015.html
-▶ OH NO... PHOTO Lonely polar bear in the Arctic Ocean http://usa.chinadaily.com.cn/photo/2013-12/21/content_17188313.htm
Guardian Environment, November 27, 2013
-▶ INTERACTIVE: CANADA'S DWINDLING POLAR BEAR POPULATION COULD COLLAPSE IN 17 YEARS http://www.theguardian.com/environment/interactive/2013/nov/27/canada-dwindling-polar-bear-population-interactive
Guardian Environment, November 27, 2013
-▶ FOR CANADA'S REMOTE TOWNS, LIVING WITH POLAR BEARS IS GROWING MORE RISKY http://www.theguardian.com/environment/2013/nov/27/canada-living-with-polar-bears-climate-change
Science World Report, September 21, 2013
-▶ POLAR BEAR SEAL DIET NOW HAS HIGHER CONTAMINANT LOAD: IMPACTS OF CLIMATE CHANGE http://www.scienceworldreport.com/articles/9623/20130921/polar-bear-seal-diet-higher-contaminant-load-impacts-climate-change.htm
Living on Earth, November 15, 2013
-▶ POLAR BEAR ATTACKS ON THE RISE DUE TO ICE MELTING AND CLIMATE CHANGE http://www.loe.org/shows/segments.html?programID=13-P13-00046&segmentID=6

Aug 7, 2013 Focusing On Wildlife
-▶ STARVED POLAR BEAR PERISHED DUE TO RECORD SEA-ICE MELT http://focusingonwildlife.com/news/starved-polar-bear-perished-due-to-record-sea-ice-melt/
Grist, September 23, 2013
-▶ AS CLIMATE CHANGES, POLAR BEARS SWITCH TO POLLUTED FOOD http://grist.org/news/as-climate-changes-polar-bears-switch-to-polluted-food/
January 24, 2012 CBC News
-▶ POLAR BEARS EATING MORE EIDER DUCK EGGS http://www.cbc.ca/news/canada/north/story/2012/01/24/north-eider-duck-eggs.html
NBC News Science, December 18, 2013
-▶ LASERS COULD PROTECT POLAR BEAR DENS FROM OIL DRILLING http://www.nbcnews.com/science/lasers-could-help-protect-polar-bear-dens-oil-drilling-2D11765619
NICE SLIDESHOW
THE POLAR BEAR BOOGIE: ALASKA POLAR BEARS DANCING ON ICE http://www.mirror.co.uk/news/world-news/alaska-polar-bears-dancing-ice-3086348#.UuoMqvZkJK4
December 22, 2010 Yale Environment 360
-▶ AS ARCTIC OCEAN MELTS, A REFUGE PLAN FOR THE POLAR BEAR http://e360.yale.edu/feature/as_the_arctic_ocean_melts_a_refuge_plan_for_the_polar_bear/2355/
-▶ GREENLAND'S MELTING: CREATING A DIFFERENT CLIMATE THAN EARTH HAS EVER SEEN http://sco.lt/8bjv73
August 6, 2013 Guardian Environment
-▶ THE POLAR BEAR WHO DIED OF CLIMATE CHANGE
A lack of sea ice, caused by global warming, meant the bear was unable to hunt seals and starved, according to an expert who had been monitoring the animal in Svalbard, Norway http://www.theguardian.com/environment/picture/2013/aug/06/polar-bear-climate-change-sea-ice
Aug 7, 2013 Focusing On Wildlife
-▶ IN DETAIL: STARVED POLAR BEAR PERISHED DUE TO RECORD SEA-ICE MELT http://focusingonwildlife.com/news/starved-polar-bear-perished-due-to-record-sea-ice-melt/
POLAR BEAR CAM - LIVE
Tundra Buggy Cam
http://explore.org/#!/live-cams/player/polar-bear-tundra-buggy-cam
Polar Bears International
http://www.polarbearsinternational.org/
LIVE WEBCAMS
OFFERS RARE GLIMPSE OF MIGRATING POLAR BEARS http://www.mnn.com/earth-matters/animals/stories/live-webcam-offers-rare-glimpse-of-migrating-polar-bears
ANIMAL PLANET LIVE: http://www.apl.tv/explore-polar-bears.htm
ENE News, November 18, 2013
-▶ FUKUSHIMA FALLOUT:
ALASKA: 28% OF POLAR BEARS WITH SKIN LESIONS & HAIR LOSS, THYROIDS TESTED BY GOVERNMENT … like symptoms in seals & walrus — Surprisingly high mortality of musk ox, weak immune system suspected — High rate of embryo deaths & bad eggs for geese http://enenews.com/alaska-28-of-polar-bears-with-skin-lesions-and-hair-loss-similar-to-seals-and-walrus-tested-for-thyroid-abnormalities-surprisingly-high-mortality-of-musk-ox-with-weak-immune-function-gees
29 March, 2013 Living on Earth:
-▶ BABY POLAR BEAR RESCUE - REALLY CUTE AND GREAT PHOTOGRAPHS: A Polar Bear Orphan School for cubs without their mothers http://www.loe.org/shows/segments.html?programID=13-P13-00013&segmentID=6
Conservation Magazine, University of Washington, October 2, 2013
-▶ AS SEA ICE MELTS, CARIBOU CALVES GO HUNGRY http://conservationmagazine.org/2013/10/sea-ice-loss-hurts-caribou-calves/
National Geographic, October 2, 2013
-▶ TEN THOUSAND WALRUSES GATHER ON ISLAND AS SEA ICE SHRINKS
The marine mammals, which usually spend their time resting on sea ice, are increasingly forced to haul out on land.
http://news.nationalgeographic.com/news/2013/10/131002-walruses-arctic-haulout-science-animals-alaska-global-warming/
January , 2012 National Geographic
-▶ BABY HARP SEALS BEING DROWNED, CRUSHED AMID MELTING ICE http://news.nationalgeographic.com/news/2012/01/120106-harp-seals-global-warming-sea-ice-science-environment/
-▶ THOUSANDS OF SEA LION PUPS DEAD FROM STARVATION: NOT ENOUGH FISH IN THE SEA http://sco.lt/6PSnNx
August 2, 2013 Reuters
-▶ FISH DIE AS ALASKA TEMPERATURES CONTINUE TO BREAK RECORDS http://www.reuters.com/article/2013/08/02/us-usa-heatwave-alaska-idUSBRE97118020130802
-▶ CLIMATE CHANGE COULD ENDANGER MORE ANIMALS THAN WE THOUGHT http://sco.lt/58HaEr
-▶ ARCTIC OCEAN MELTING, ACIDIFYING RAPIDLY http://sco.lt/9GRj3B
-▶ WE MAY BE THE LAST GENERATION TO CATCH FOOD FROM THE OCEANS http://sco.lt/8uHn7Z
WATCH:
CNN VIDEO:
-▶ "OVERFISHED AND UNDER-PROTECTED: OCEANS ON THE BRINK OF CATASTROPHIC COLLAPSE" http://sco.lt/7e9wYL
-▶ SEA CHANGE - THE LOSS OF OCEAN SPECIES IS STAGGERING http://sco.lt/8AV5qz
-▶ IS THE SIXTH MASS EXTINCTION UPON US? http://sco.lt/5GRCWv
-▶ PRICING CARBON, CARBON STORAGE, OFFSETS: FAILED STRAGEIES THAT WON'T SAVE THE CLIMATE OR OUR PLANET http://sco.lt/7UBKIj
Summit Voice, December 05, 2013
-▶ ARCTIC SCIENTIST RESIGNS AFTER BATTLING HIS OWN FEDERAL AGENCY OVER TRANSPARENCY AND SCIENTIFIC ETHICS http://summitcountyvoice.com/2013/12/05/environment-arctic-scientist-resigns-after-battling-his-own-federal-agency-over-transparency-and-scientific-ethics/