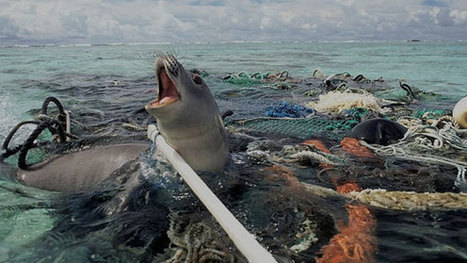 - ▶ VIDEO
WHEN THE MERMAIDS CRY: THE GREAT PLASTIC TIDE
This is a heartbreaking subject when you realize the effects of wasteful, wanton irresponsibility and unconscious recklessness. The article below following the video is a must view, even if only to see the pictures. The shocking reality of what is happening to our planet is beyond comprehension. Thankfully the vibrant loving beauty of nature helps soothe our souls, but the challenge before us is daunting.... http://www.zengardner.com/when-the-mermaids-cry-the-great-plastic-tide/
Sydney Morning Herald, Aprol 06, 2014
- ▶ PLASTIC MICROBEADS IN FACIAL SCRUBS CAUSING MAJOR DAMAGE TO ENVIRONMENT AND OCEAN http://www.smh.com.au/lifestyle/plastic-microbeads-in-facial-scrubs-causing-damage-to-environment-20140405-365ph.html
INFOGRAPHIC
▶ THE TRUTH ABOUT PLASTIC AND ITS IMPACT ON OUR PLANET - Is temporary convenience worth the 400 to 1000 years it takes plastic silverware to break down? http://holykaw.alltop.com/the-truth-about-plastic-and-its-impact-on-our-planet-infographic
- ▶ MERMAID TEARS: MICROBEADS AND MICROPLASTICS IN BEAUTY PRODUCT THREATEN OUR OCEANS http://sco.lt/7qX0Dp
- ▶ OUR PLASTICS WILL POLLUTE OCEANS FOR HUNDREDS OF YEARS http://sco.lt/7tYlQ9
- ▶ NEWLY DISCOVERED 'PLASTIC ISLAND' IN OCEAN SHOWS GLOBAL EPIDEMIC WORSENING http://sco.lt/7UEq0n
- ▶ THE WORLD'S LARGEST 'WASTE DUMP' IS FOUND IN THE PACIFIC OCEAN http://sco.lt/5F1E8H
BBC Science and Environment, October 7, 2013
- ▶ PLASTIC WASTE THREATENS LAKES AS WELL AS OCEANS http://www.bbc.co.uk/news/science-environment-24434378
- ▶ OUR OCEANS ARE DROWNING IN PLASTIC http://sco.lt/5F1E8H
Guardian Environment, December 2, 2013
- ▶ MOUNTING MICROPLASTIC IN OUR OCEANS HARMS EARTHWORMS OF THE SEA' AND ECOSYSTEMS HARMING FOOD CHAIN http://www.theguardian.com/environment/2013/dec/02/microplastic-pollution-harms-lugworms-sea-oceans
- ▶ PLASTIC IN 'GREAT PACIFIC GARBAGE PATCH' HAS INCREASED 100-FOLD - Killing Ocean Life and Ecosystem | Common Dreams https://www.commondreams.org/headline/2012/05/09-2
Huffington Post Canada, September 19, 2013
- ▶ LIKE SEAFOOD? YOU'VE BEEN EATING YOUR OWN GARBAGE http://www.huffingtonpost.ca/alex-mifflin/plastic-pollution-ocean_b_3921059.html
NEW DOCUMENTARY:
THE FATAL SHORE, AN OCEAN AWASH IN PLASTIC http://www.scoop.it/t/our-oceans-need-us/p/2487927552/the-fatal-shore-an-ocean-awash-in-plastic-new-documentary
- ▶ OCEAN PLASTIC'S IMPACT ON SEA LIFE, YOUR SEAFOOD AND WILD SEA TURTLES http://sco.lt/5LdeMb
WATCH Documentary
- ▶ "PLASTICIZED:
An eye-opening story about the institute's global mission to study the effects, reality, and scale of plastic pollution around the world. The overwhelming contaminant that is secretly infiltrating all levels of sea life like a cancer... http://topdocumentaryfilms.com/plasticized/
- ▶ CHEMICAL FROM PLASTIC WATER BOTTLES FOUND THROUGHOUT OCEANS http://sco.lt/5ogIGf
Feb 3, 2013
- ▶ WAITER, WHY DOES MY FISH TASTE LIKE PLASTIC? http://www.scoop.it/t/our-oceans-need-us/p/3995893795/waiter-why-does-my-fish-taste-like-plastic
-- WATCH --
**** DO WE HAVE THE COURAGE?
A Moving Short Film About MIDWAY by Chris Jordan - http://www.scoop.it/t/our-oceans-need-us/p/1061944409/midway-a-short-film-by-chris-jordan-do-we-have-the-courage

Video
- ▶ **** CHRIS JORDAN ON THE MIDWAY PROJECT - YouTube http://www.youtube.com/watch?v=-M9t2fm__K0&feature=player_embedded#!
August 6, 2013 EcoWatch
- ▶ SILENT KILLERS: THE DANGER OF PLASTIC BAGS TO MARINE LIFE http://ecowatch.com/2013/the-danger-of-plastic-bags-to-marine-life/
- ▶ OCEAN PLASTIC'S IMPACT ON SEA LIFE, YOUR SEAFOOD AND WILD SEA TURTLES http://sco.lt/5LdeMb
- ▶ THE LOSS OF OCEAN SPECIES IS STAGGERING http://sco.lt/599jsH
ALSO SEE:
- ▶ PREVENTION AS CURE: BREAST CANCER AND THE ENVIRONMENT http://www.scoop.it/t/agriculture-gmos-pesticides/p/3997264351/prevention-as-cure-breast-cancer-and-the-environment