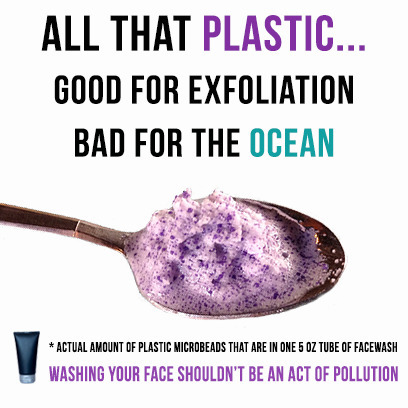 Dec. 9. 2012 - The Guardian
- ▶ MICROBEADS, MICROPLASTICS FROM COSMETICS CAUSING MASSIVE RIVER AND OCEAN POLLUTION
Is the ubiquitous use of tiny fragments of nano plastic in cosmetics a serious problem for the marine environment, and what can be done about it? http://www.guardian.co.uk/environment/2012/dec/09/microbeads-microplastics-cosmetics-ocean-pollution
SummitVoice, July 19, 2013
- ▶ MICROPLASTIC POLLUTION GETS INSIDE CRABS VIA GILLS. Is There A Risk Higher Up The Food Chain? http://summitcountyvoice.com/2014/07/19/environment-microplastic-pollution-gets-inside-crabs-via-gills/
The Independent, July 13, 2014
- ▶ MICROPLASTIC WASTE: THIS MASSIVE (TINY) THREAT TO SEA LIFE IS NOW IN EVERY OCEAN http://www.independent.co.uk/news/science/microplastic-waste-this-massive-tiny-threat-to-sea-life-is-now-in-every-ocean-9602430.html
FastCoExist, June 2, 2014
- ▶ HOW A PRODUCT DESIGN OVERSIGHT IN YOUR FACE WASH BECAME AN ENVIRONMENTAL DISASTER http://www.fastcoexist.com/3032140/how-a-product-design-oversight-in-your-face-wash-became-an-environmental-disaster
VIDEO REPORT
KGW.Com, Portland, May 16, 2014
MICROPLASTICS POLLUTING OREGON SHORES, KILLING WILDLIFE http://www.kgw.com/news/Microplastics-polluting-Ore-beaches-killing-wildlife-259470551.html
The Independent, May 18, 2014
- ▶ EXCLUSIVE: TINY PLASTIC TIME BOMB: THE POLLUTANTS IN OUR COSMETICS. You probably didn't know they were there, but millions of tons of microbeads are being washed into the sea, up the food chain, and heading for the tuna on your plate http://www.independent.co.uk/news/science/exclusive-tiny-plastic-timebomb--the-pollutants-in-our-cosmetics-9391412.html
The Independent, May 25, 2014
▶ BEAUTY BRANDS PLEDGE TO END USE OF MICROBEADS IN THEIR PRODUCTS http://www.independent.co.uk/news/science/beauty-brands-pledge-to-end-use-of-microbeads-in-their-products-9431984.html
Guardian Sustainable Business, May 05, 2014
- ▶ DITCHING MICROBEADS: THE SEARCH FOR SUSTAINABLE SKINCARE. Is smoother skin worth more than having potable water or edible fish? http://www.theguardian.com/sustainable-business/microbeads-cosmetics-gyres-plastics-pollution-makeup

Sydney Morning Herald, Aprol 06, 2014
- ▶ PLASTIC MICROBEADS IN FACIAL SCRUBS CAUSING MAJOR DAMAGE TO ENVIRONMENT AND OCEAN http://www.smh.com.au/lifestyle/plastic-microbeads-in-facial-scrubs-causing-damage-to-environment-20140405-365ph.html
NOAA, March 30, 2012
- ▶ WHAT IS PLASTIC DOING iN MY FACE SCRUB? http://usresponserestoration.wordpress.com/2012/03/30/what-is-plastic-doing-in-my-face-scrub/
Los Angeles Times, January 25, 2014
- ▶ PLASTIC MICROBEADS A MAJOR PROBLEM IN LOS ANGELES "RIVER" . The tiny plastic beads, common in personal care products and not biodegradable, are an emerging concern among scientists and environmentalists... http://www.latimes.com/science/la-me-0126-microbeads-20140126,0,7492777.story#axzz2re5vzXj4
Gizmo, December 22, 2013
- ▶ MILLIONS OF MICROBEADS FROM SOAP HAVE CONTAMINATED THE US GREAT LAKES http://www.gizmodo.com.au/2013/12/millions-of-microbeads-from-soap-have-contaminated-the-great-lakes/
June 26, 2013 Global Possibilities
- ▶ THE MICROBEADS IN YOUR BODY WASH ARE SLOWLY FILLING THE GREAT LAKES WITH PLASTIC http://www.globalpossibilities.org/the-microbeads-in-your-body-wash-are-slowly-filling-the-great-lakes-with-plastic/
New Scientist, June 23, 2014
- ▶ WHY ILLINOIS IS FIRST US STATE TO BAN THE MANUFACTURE AND SALE OF COSMETICS THAT CONTAIN PLASTIC MICROBEADS http://www.newscientist.com/article/dn25773-why-illinois-has-banned-exfoliating-face-washes.html
HuffingtonPost Green, June 18, 2014
- ▶ AN ODD TWIST - ILLINOIS 'MICROBEADS' BAN CAME WITH INDUSTRY COOPERATION http://www.huffingtonpost.com/2014/06/18/illinois-microbeads-ban_n_5508703.html
ABC Australia, January 30, 2012
- ▶ YOUR LAUNDRY IS LITTERING WORLD'S OCEANS WITH MICRO-PLASTIC PIECES ENDING UP IN FOOD CHAIN
http://www.abc.net.au/worldtoday/content/2012/s3418575.htm
Guardian Environment, December 2, 2013
- ▶ MOUNTING MICROPLASTIC IN OUR OCEANS HARMS EARTHWORMS OF THE SEA' AND ECOSYSTEMS HARMING FOOD CHAIN http://www.theguardian.com/environment/2013/dec/02/microplastic-pollution-harms-lugworms-sea-oceans
Australian Broadcasting Corporation - Science, November 28, 2013
- ▶ 'MICROPLASTIC' THREAT TO AUSTRALIAN WATERS http://www.abc.net.au/science/articles/2013/11/28/3900026.htm
September 9, 2013 Earth Sky Science
- ▶ MICROPLASTICS ARE A GROWING CONCERN FOR THE GREAT LAKES http://earthsky.org/earth/microplastics-are-a-growing-concern-for-the-great-lakes
WATCH:
THE FATAL SHORE
Documentary
AN OCEAN AWASH IN PLASTIC
June 18, 2013 EurActiv
- ▶ DUTCH WANT THEIR MUSSELS FREE FROM MICRO-PLASTIC LITTER, CALL ON EU TO ACT http://www.euractiv.com/science-policymaking/dutch-want-mussels-free-micro-pl-news-528673
Grist, February 14, 2014
- ▶ NEW YORK, CALIFORNIA MOVE TO BAN BEAUTY PRODUCTS CONTAINING MICROBEADS http://grist.org/news/new-york-california-move-to-ban-beauty-products-containing-microbeads/
Sustainable Brands, February 20, 2014
- ▶ TESTING THE CVS EFFECT ON MICROBEADS: COULD OREAL AND UNILEVER BE BOLDER? http://www.sustainablebrands.com/news_and_views/chemistry_materials/claire_sommer/testing_cvs_effect_microbeads_could_loreal_unilever
July 2, 2013 Treehugger
- ▶ THREE COMPANIES COMMIT TO REMOVING PLASTIC BEADS FROM THEIR BODY PRODUCTS http://www.treehugger.com/clean-water/3-companies-commit-removing-plastic-beads-their-body-products.html
WATCH:
DO WE HAVE THE COURAGE?
A Moving Short Film About MIDWAY
by Chris Jordan
http://www.scoop.it/t/our-oceans-need-us/p/1061944409/midway-a-short-film-by-chris-jordan-do-we-have-the-courage
======================
BILLIONS OF POUNDS OF PLASTIC IN OUR OCEANS:
IMPACT ON SEA LIFE, YOUR SEAFOOD AND YOUR HEALTH
======================
MIDWAY:
BIRDS, SEA LIFE CONSUMING PLASTIC TO THEIR DEATH
THE GREAT PLASTIC TIDE
VIDEO:
"WHEN THE MERMAIDS CRY: THE GREAT PLASTIC TIDE?
WATCH
"INSIDE THE GREAT GARBAGE PATCH OF THE WORLD" (80 min)
We're living on a beautiful planet and as a human race we've been here for thousands of years. However for the past 100 years Economy, profit and capitalization became more important than respecting our planet and an ancient knowledge to advance a new way of life.
Today we're at the threshold that can't be reversed if we don't stop consuming the way we do as a human race. Pollution is becoming a devastatingly huge problem that will endanger humanity for generations to come. One such pollutant is our use of single-use plastic.
Everything we share, which is the ocean, belongs not to corporations or any individual. It belongs to the world as a whole and that's getting trashed. When we start losing those resources we'll lose our very quality of life. Our business system, environment system and our social system is not going to survive... it cannot survive. All the other species are suffering because of us. We'll also lose the ability our future generations to enjoy the quality of life that we were fortunate enough to have.
http://topdocumentaryfilms.com/inside-garbage-world/