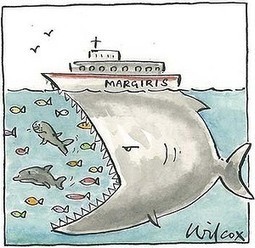 -▶
In the marine world, high-energy prey make for high-energy predators. And to survive, such marine predators need to sustain the right kind of high-energy diet. Not just any prey will do, suggests a new study... http://www.sciencedaily.com/releases/2012/11/121121210246.htm
Grist, November 11, 2013
-▶ FORAGE FISH: SARDINES HAVE NEARLY DISAPPEARED OFF USA WEST COAST http://grist.org/news/sardines-have-nearly-disappeared-off-west-coast/
August 16, 2013 The Fish Site
-▶ PACIFIC TUNA STOCKS IN ALARMING DECLINE: TOO MANY INDUSTRIAL FISHING VESSELS PLUNDERING THE OCEANS WITH HIGHLY DESTRUCTIVE FISHING TECHNIQUES http://www.thefishsite.com/fishnews/21031/pacific-tuna-stocks-in-alarming-decline#sthash.MgpLJS46.dpuf
Dec. 24, 2012 The Center For Public Integrity
-▶ FISHING FLEETS HAVE DEVASTATED STOCKS IN THE SOUTHERN PACIFIC, ONCE AMONG THE WORLD'S RICHEST WATERS http://www.publicintegrity.org/2012/01/25/7900/free-all-decimates-fish-stocks-southern-pacific
DEADLY BYCATCH
TWO-THIRDS OF HEALTHY FISH BROUGHT ON TO FISHING VESSELS IS THROWN BACK INTO THE SEA: DEAD OR INJURED http://sco.lt/6DbCld
BOTTOM TRAWLING:
SCRAPING THE BOTTOM OF THE OCEAN CLEAN: AN INSATIABLE DRIVE FOR PROFITS, DESTRUCTION OF OCEANS http://sco.lt/7QNLQ9
▶ OVERFISHING DESTROYING FOOD SOURCE FOR OCEAN SPECIES - SUPERTRAWLERS WRECKING THE OCEAN ECOSYSTEM http://sco.lt/5T7ZGj
▶ 100 MILLION A YEAR JUST FOR THEIR FINS. SHARK POPULATIONS PLUMMET BY 90% http://sco.lt/7kHqLZ
NEW REPORT
FINDS MILLIONS (NOT THOUSANDS) OF MARINE TURTLES KILLED BY LONGLINE, GILLNET SUPER TRAWLER FISHERIES http://sco.lt/72A0mH
▶ DEEP SEA MINING 'GOLD RUSH' MOVES CLOSER, DEVASTATING OCEAN SEABED, DESTROYING YET UNKNOWN ECOSYSTEMS http://sco.lt/5tF4s5
VIDEO:
NO SUPER TRAWLERS. NOT HERE, NOT ANYWHERE
EcoRINews, November 2013
-▶ SUSTAINABLE FISHING KEY TO FEEDING THE WORLD - As the world population approaches 9 billion, climate change advances and the middle class expands, Sharpless said livestock farming will put pressure on land ecosystems, forests and aquifers. The cost of grain also will increase, causing shortages for poor communities. http://www.ecori.org/massachusetts-farming/2013/11/10/sustainable-fishing-key-to-feeding-the-world.html
-▶ THOUSANDS OF SEA LION PUPS DEAD FROM STARVATION - NOT ENOUGH FISH IN THE SEA http://sco.lt/6PSnNx
TakePart, October 15, 2013
-▶ WHAT'S KILLING THE KILLER WHALES OF THE PACIFIC NORTHWEST - TOO MANY BOATS, OR NOT ENOUGH SALMON? http://www.takepart.com/article/2013/10/14/fight-rages-over-wild-orca-decline-too-many-boats-or-not-enough-salmon
Earth Policy Institute
-▶ OVERFISHING THREATENS CRITICAL LINK IN THE FOOD CHAIN
The fish near the bottom of the aquatic food chain are often overlooked, but they are vital to healthy oceans and estuaries. Collectively known as forage fish, these species—including sardines, anchovies, herrings, and shrimp-like crustaceans called krill—feed on plankton and become food themselves for larger fish, seabirds, and marine mammals.
http://worldfoodsecurity.blogspot.com/2013/01/overfishing-threatens-critical-link-in.html
March 19, 2013
-▶ DISCARDS BAN COULD IMPACT SEABIRDS POPULATION - The European Parliament recently voted to scrap the controversial discards policy, which has seen fishermen throwing thousands of edible fish and fish waste back into the sea because they have exceeded their quotas. http://www.terradaily.com/reports/Discards_ban_could_impact_seabirds_population_999.html
-▶ INSANITY UPON INSANITY: FISHERMAN WANT CORMORANT CULL BECAUSE THEY'RE EATING TOO MANY FISH http://www.cbc.ca/news/canada/prince-edward-island/story/2012/01/30/pei-cormorant-cull-fishermen-584.html
-▶ PERU: MASS DOLPHIN AND PELICAN DIE-OFF FOUND STARVING: WE ARE OVERFISHING OUR OCEANS AT AN ALARMING RATE
http://www.channel4.com/news/what-is-behind-mass-pelican-and-dolphin-deaths-in-peru
VIDEO:
- FORAGE FISH KEY TO A HEALTHY OCEAN FOOD WEB
GOING, GOING...
June 28, 2012 IPS –
-▶ DEPLETED CHILEAN FISH NEED ' A REAL CHANCE OF RECOVERY' - Mackerel stocks off Chile's Coast reach critically low levels http://www.ipsnews.net/2012/06/depleted-chilean-fish-need-a-real-chance-of-recovery/
ITV, October 17, 2013
-▶ DOLPHINS BUTCHERED FOR SHARK BAIT IN ILLEGAL HUNT OFF THE COAST OF PERU http://www.itv.com/news/2013-10-17/dolphins-butchered-for-shark-bait-in-illegal-hunt-off-the-coast-of-peru/
WATCH
"SEA THE TRUTH"
IN 2048 OUR OCEANS WILL BE EMPTY
http://www.scoop.it/t/our-oceans-need-us/p/1838959581/sea-the-truth-in-2048-our-oceans-will-be-empty-video
VIDEO:
THE TRUE COST OF INDUSTRIAL FISHING IN WEST AFRICA
-▶ OCEANS ARE SO DEPLETED SOME WILD FISH STOCKS MAY NEVER RECOVER - CHANGING OCEAN ECOSYSTEMS FOREVER
http://newswatch.nationalgeographic.com/2012/08/31/fish-on-fridays-time-for-new-englands-groundfishery-to-hit-the-reset-button/
-▶ WE MAY BE THE LAST GENERATION TO CATCH FOOD FROM THE OCEANS http://sco.lt/8uHn7Z
-▶ UN: OCEAN-GRABBING BY CORPORATE INDUSTRIAL FISHING 'THREATENS WORLDS' FISHERIES' http://sco.lt/6g6w41
-▶ U.N. - OVERFISHING BECOMING INCREASINGLY RECOGNIZED FOR THE ECOLOGICAL DISASTER IT IS | Olivier De Schutter | http://www.guardian.co.uk/global-development-professionals-network/2012/nov/27/development-oceans-over-fishing
-▶ MARINE SPECIES WON'T SURVIVE UNLESS DRASTIC PROTECTION POLICIES ARE PUT IN PLACE http://www.scoop.it/t/our-oceans-need-us/p/2496680057/marine-species-won-t-survive-unless-drastic-protection-policies-put-in-place
-▶ LOOTING OUR SEAS: 'FREE FOR ALL' DECIMATES FISH STOCKS IN THE SOUTHERN PACIFIC http://sco.lt/8ClodF
WATCH
"EMPTY OCEAN, EMPTY NETS" | Bullfrog Films http://www.bullfrogfilms.com/catalog/eoen.html
VIDEO:
-▶ *** IMAGINE A WORLD WITH EMPTY OCEANS. NOW IMAGINE IT IN OUR LIFETIME http://www.upworthy.com/imagine-a-world-with-empty-oceans-now-imagine-it-in-our-lifetime
-▶ GREENLAND'S MELTING: CREATING A DIFFERENT CLIMATE THAN EARTH HAS EVER SEEN http://sco.lt/8bjv73
-▶ CLIMATE CHANGE AND OCEAN ACIDIFICATION: HIGHEST LEVELS IN 55 MILLION YEARS http://sco.lt/6srluz
PICTURES:
January 12, 2012 National Geographic
-▶ OVERFISHING, NO FOOD FOR SEALS: Baby Seals washed up in Europe, too weak to care for themselves. The incident is an extreme example among a recent increase in pup strandings, experts say. Overfishing has reduced the seals' available prey, and the polluted fish the animals do catch often make them sick. "In the last two or three years we have seen more and more seals wash up too weak to look after themselves http://news.nationalgeographic.com/news/2012/01/pictures/120118-baby-seals-netherlands-stranded-animals/
VIDEO
-▶ ****EARTHRACE REVEAL HORROR OF THE ANNUAL 90,000 HORROR OF THE ANNUAL NAMIBIAN BABY SEAL SLAUGHTER http://sco.lt/5pSMpV
-▶ 70,000 CANADIAN SEAL "CULL" AKA "SLAUGHTER, WILL NOT REVIVE CANADA'S COD STOCKS http://sco.lt/4i4j33
-▶ WHERE HAVE ALL THE WHALES GONE? GENETIC DIVERSITY IS CRUCIAL TO ALL SPECIES SURVIVAL http://www.huffingtonpost.com/2012/05/12/gray-whale-population-whaling_n_1511704.html?ref=tw
--- CORPORATE INDUSTRIAL FISHING ---
-- WATCH --
NO SUPER TRAWLERS. NOT HERE. NOT ANYWHERE http://www.scoop.it/t/our-oceans-need-us/p/2478442068/no-super-trawlers-not-here-not-anywhere-video
-▶ SUPER TRAWLER NETS BIG ENOUGH TO HOLD 13 JUMBO JETS - USING GPS TO SWEEP UP ALL IN IT'S PATH
In most places, the oceans have lost more than 75 per cent of their "megafauna" – large creatures such as whales, sharks, dolphins, rays and turtles. Numbers of some species – oceanic whitetip sharks; American sawfish – are down by as much as 99 per cent. For every 20 leatherback turtles in the Pacific 50 years ago, only one remains http://www.scoop.it/t/our-oceans-need-us/p/1838791014/sea-change-the-loss-of-ocean-species-is-staggering
-▶ ANTARCTICA: KRILL SUPER-TRAWLERS PUSHING PENGUINS TOWARD EXTINCTION http://sco.lt/68bs8X
VIDEO
THE LAST OCEAN
A Short Film by John Weller
http://www.scoop.it/t/our-oceans-need-us/p/2133286873/the-last-ocean-a-short-film-by-john-weller
May 10, 2012 NRDC
-▶ THE POWER OF BIG CORPORATE FISHERIES LOBBY - PROTECTIONS REMOVED FOR IMPERILED DEEPWATER FISH SPECIES http://switchboard.nrdc.org/blogs/dnewman/protections_removed_for_imperi.html
-▶ EMPTYING OUR OCEANS: BILLIONS IN SUBSIDIES PROP UP UNSUSTAINABLE OVERFISHING http://www.ipsnews.net/2012/11/billions-in-subsidies-prop-up-unsustainable-overfishing/
-▶ OCEAN-GRABBING THREATEN WORLD'S FISHERIES: UN http://www.scoop.it/t/our-oceans-need-us/p/3312198844/ocean-grabbing-threatens-world-s-fisheries-un
National Geographic
-▶ OVERFISHING; WHEN WILL IT STOP? OCEAN DESTRUCTION BY CORPORATE INDUSTRIAL COMMERCIAL FISHING http://ocean.nationalgeographic.com/ocean/critical-issues-overfishing/
June 9, 2012 Mother Jones
-▶ THE LAST DAYS OF THE OCEAN - SPECIAL REPORTS http://www.motherjones.com/special-reports/2006/03/last-days-ocean
-▶ HOW THE WORLD'S OCEANS ARE RUNNING OUT OF FISH http://www.scoop.it/t/our-oceans-need-us/p/2780633722/how-the-world-s-oceans-could-be-running-out-of-fish
July 21, 2012
Al Jazeera
-▶ HOW MANY MORE FISH IN THE SEA? http://www.aljazeera.com/indepth/features/2012/06/201261462834779767.html
June 5, 2012 McCarthy
-▶ THE POINT OF NO RETURN: RESEARCHERS LEARN HOW FISH POPULATIONS COLLAPSE http://www.rdmag.com/News/2012/06/General-Science-Researchers-Learn-How-Populations-Collapse/
-▶ MAINTAINING HEALTHY, BALANCED MARINE SYSTEMS ARE CRUCIAL FOR SPECIES SURVIVAL http://www.natuurbericht.nl/?id=9583
-▶ ANTARCTIC ICE LOSS HAVING PROFOUND EFFECTS ON OCEAN FLOOR ECOLOGY http://sco.lt/6cuyFF
PHOTO GALLERY:
-▶ THE JELLIFICATION OF OUR SEAS - GREAT PHOTOS
As fish populations deplete, jellyfish populations are growing throughout much of the world. The fact that human beings and jellyfish tangle with one another more frequently than in the past is unpleasant for both sides. It also costs many millions each year. Here, a diver attaches a sensor to a large Echizen jellyfish off the coast of Komatsu in northern Japan... http://www.spiegel.de/fotostrecke/photo-gallery-the-jellification-of-the-seas-fotostrecke-98970.html
-▶ ANIMALS ARE ALREADY DISSOLVING IN SOUTHERN OCEAN http://sco.lt/7tBxMP
January 12, 2012 Earthsky
-▶ LOST WORLD OF CREATURES AT ANTARCTIC DEEP-SEA VENTS http://earthsky.org/earth/lost-world-of-creatures-at-antarctic-deep-sea-vents