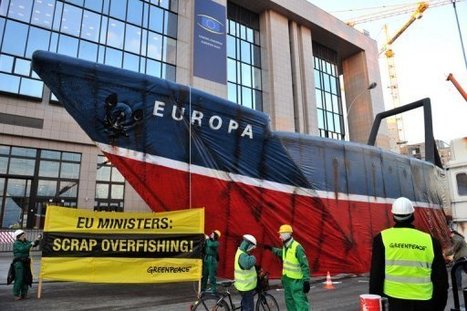 October 30, 2012 -
"Future generations will pay the price" for so-called ocean-grabbing, the process by which industrial global fishing fleets scoop up vast stocks of fish from protected waters to the detriment of local communities and small-scale fishing, said Olivier de Schutter, the United Nations special rapporteur on food. "Industrial fishing in far-flung waters may seem like the economic option, but only because fleets are able to pocket major subsidies while externalizing the costs of over-fishing and resource degradation," he said after the publication of a report that says fish account for 15% of world protein intake from animals....
http://www.france24.com/en/20121030-ocean-grabbing-threatens-worlds-fisheries-un
TakePart, October 6, 2013
GREENPEACE'S OUTRAGE AGAINST MONSTER FISHING TRAWLERS LIKE THE FV MARGIRIS - Capable of sucking up 7,000 tons of fish in 1,800-foot long nets, giant ships kill off oceans and small fishermen http://www.takepart.com/article/2013/10/06/greenpeace-overfishing-trawlers
WATCH:
VIDEO
*** NO SUPER TRAWLERS. NOT HERE. NOT ANYWHERE http://www.scoop.it/t/our-oceans-need-us/p/2478442068/no-super-trawlers-not-here-not-anywhere-video
10 FRIGHTENING FACTS ABOUT SUPER TRAWLERS | Greenpeace Australia Pacific http://www.greenpeace.org/australia/en/news/oceans/top-10-facts-about-super-trawlers/
VIDEO INVESTIGATION - 4 CORNERS ABC AUSTRALIA
▶ INSIDE A SUPERTRAWLER
400,000 Tons of Fish At A Time
http://www.youtube.com/watch?v=Azg8nX-uJnI
THE LOSS OF OCEAN SPECIES IS STAGGERING http://sco.lt/599jsH
VERY IMPORTANT WATCH....
Video
***THE TERRIBLE PRICE OF SUBSIDIZING CORPORATE FISHERIES - http://www.seathetruth.nl/en/
Video
*** THE WORLD'S LARGEST FACTORY FISHING TRAWLER https://www.youtube.com/watch?v=BCb2TT5GW7k
Video
*** SUPER TRAWLING TUNA - THE FISH DON'T HAVE A CHANCE AGAINST HI-TECH - Video Footage captured by tuna industry whistleblower
TakePart, October 7, 2013
GLOBAL OUTCRY AGAINST MONSTER FISHING TRAWLERS http://www.takepart.com/article/2013/10/06/greenpeace-overfishing-trawlers?cmpid=tp-ptnr-scribol
EMPTYING OUR OCEANS: Billions in Subsidies Prop up Unsustainable Overfishing http://www.scoop.it/t/our-oceans-need-us/p/3259929193/emptying-our-oceans-billions-in-subsidies-prop-up-unsustainable-overfishing
U.N. URGES FOREIGN FISHING FLEETS TO HALT OCEAN GRABBING http://www.scoop.it/t/our-oceans-need-us/p/3150285383/u-n-urges-foreign-fishing-fleets-to-halt-ocean-grabbing
KRILL SUPER-TRAWLERS PUSHING ANTARCTIC PENGUINS TOWARD EXTINCTION http://sco.lt/5G7sMj
TO THE LAST FISH: Capable of Fishing 76,800 Hooks Per Day, Jensen to Design One of the World's Largest Longliners http://www.scoop.it/t/our-oceans-need-us/p/1606743410/to-the-last-fish-capable-of-fishing-76-800-hooks-per-day-jensen-to-design-one-of-the-world-s-largest-longliners
We need to start thinking more about an environmentally driven market, as opposed to a commercially driven market http://www.scoop.it/t/our-oceans-need-us/p/2013383780/how-many-more-fish-in-the-sea
LOOTING OUR OCEANS: 'Free-for-all' decimates fish stocks in the southern Pacific http://www.scoop.it/t/our-oceans-need-us/p/1926290479/looting-our-oceans-free-for-all-decimates-fish-stocks-in-the-southern-pacific
WATCH
Video
THE TRUE COST OF INDUSTRIAL FISHING IN WEST AFRICA: FOREIGN FISHING FLEETS PLUNDERING AFRICAN SEAS http://www.scoop.it/t/our-oceans-need-us/p/1644609296/the-true-cost-of-industrial-fishing-in-west-africa-video-foreign-fishing-fleets-plundering-african-seas
TO THE LAST FISH: Industrial fishing association objects to fisheries quota bill http://www.scoop.it/t/our-oceans-need-us/p/976471753/to-the-last-fish-industrial-fishing-association-objects-to-fisheries-quota-bill
MASSIVE INTERNATIONAL OVERFISHING OF JACK MACKEREL WIPING OUT THE STOCK http://www.scoop.it/t/our-oceans-need-us/p/1274361296/massive-international-overfishing-of-jack-mackerel-wiping-out-the-stock
OVERFISHING: REELING IN THE FOOD CYCLE http://www.scoop.it/t/our-oceans-need-us/p/1606877365/overfishing-reeling-in-the-food-cycle


VIDEO
OVERFISHING - THE CONSEQUENCES http://www.scoop.it/t/our-oceans-need-us/p/946047254/overfishing-the-consequences
UNESCO Office in Bangkok, February 22, 2012
-▶ MARINE SCIENTIST ALARMED ABOUT INCREASING THREATS TO OCEAN ECOSYSTEMS http://www.unescobkk.org/news/article/marine-scientists-alarmed-about-increasing-threats-to-ocean-ecosystems/
-▶ OUR OCEANS ARE DYING: RAPIDLY SPIRALING DOWNWARD: MASS EXTINCTION MAY BE INEVITABLE http://sco.lt/8CFwcT
-▶ SEA CHANGE: THE LOSS OF OCEAN SPECIES IS STAGGERING http://sco.lt/51LeCn
-▶ DESTRUCTIVE FISHING GEAR KILLS 400K SEABIRDS EACH YEAR http://sco.lt/7UfLIP