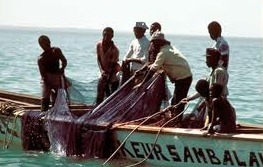 October 4, 2012 - Think Progress by Tom Wittig
Developing countries that rely on nourishment from the oceans will soon find their sources of food and way of life threatened, according to an Oceana study released last week....
Losing [seafood] may mean more dependence on less healthy processed foods that are imported from abroad. Communities that have recently made a shift from eating traditional seafood items to importing cheap, processed foods have suffered widespread health problems. For example, in Pacific Island nations about 40 percent of the population has been diagnosed with diabetes, cardiovascular diseases or hypertension....
http://thinkprogress.org/climate/2012/10/04/959201/climate-change-and-seafood-supply-developing-countries-most-vulnerable-to-ocean-acidification/?mobile=nc