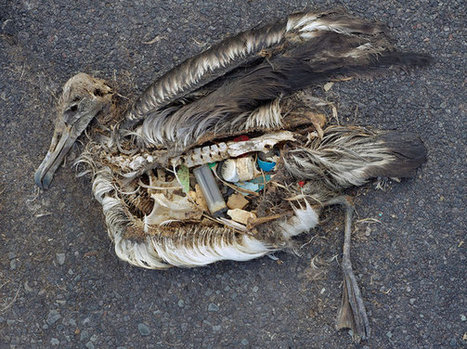 ▶ OUR OCEANS ARE DROWNING IN PLASTIC - Montréalités Justice http://www.montrealites.ca/justice/2012/01/our-oceans-are-drowning-in-plastic.html#.UUa5gRk0ORQ
WATCH
THE FATAL SHORE, AWASH IN PLASTIC
DOCUMENTARY
http://rendezvous.blogs.nytimes.com/2012/08/23/the-fatal-shore-awash-in-plastic/?ref=world
▶ FISH INGEST UP TO 24,000 TONS OF PLASTIC EACH YEAR: PACIFIC GARBAGE PATCH 100 TIMES LARGER THAN IN 1972 http://www.scoop.it/t/our-oceans-need-us/p/1762156387/pacific-garbage-patch-100x-larger-than-in-1972-fish-ingest-up-to-24-000-tons-of-plastic-each-year
▶ CHEMICAL FROM PLASTIC WATER BOTTLE FOUND THROUGHOUT OCEANS - BIO-ACCUMULATES UP FOOD CHAIN http://sco.lt/5ogIGf
▶ OUR PLASTICS WILL POLLUTE OCEANS FOR HUNDREDS OF YEARS http://sco.lt/7tYlQ9
NRDC,
PLASTIC POLLUTION IN OUR OCEANS - WHAT IT MEANS TO YOU http://www.nrdc.org/oceans/plastic-ocean/
WATCH
DO WE HAVE THE COURAGE?
A Moving Short FILM About MIDWAY by Chris Jordan - http://www.scoop.it/t/our-oceans-need-us/p/1061944409/midway-a-short-film-by-chris-jordan-do-we-have-the-courage
Climate Progress, March 31, 2014
▶ PLASTIC SOUP OF OCEAN GARBAGE OBSCURES SEARCH FOR MALAYSIA PLANE DEBRIS http://thinkprogress.org/climate/2014/03/31/3420870/ocean-garbage-malaysia-airplane-search/
MailOnLine, February 08, 2012
▶ SPERM WHALES: HOW PLASTIC BAGS ARE POISONING THE PLANET'S GREATEST PREDATORS: 65ft long sperm whales are being killed by human pollution http://www.dailymail.co.uk/news/article-2096142/Sperm-whales-How-plastic-bags-poisoning-planets-greatest-predators.html
WATCH (6:00)
KILL PLASTIC NOT WILDLIFE
The Guardian, September 29, 2012
▶ VOYAGE REVEALS 'PLANETARY SCALE' OF PLASTIC IN OCEAN -- AND YOUR SEAFOOD http://www.guardian.co.uk/environment/2012/sep/27/plastic-debris-southern-ocean-pristine
▶ THE WORLD'S RUBBISH DUMP STRETCHES FROM HAWAII TO JAPAN - The Independent http://www.independent.co.uk/environment/green-living/the-worlds-rubbish-dump-a-tip-that-stretches-from-hawaii-to-japan-778016.html
VIDEO:
"WHEN THE MERMAIDS CRY: THE GREAT PLASTIC TIDE
▶ OCEAN PLASTIC'S IMPACT ON SEA LIFE, YOUR SEAFOOD AND YOUR HEALTH http://sco.lt/5LdeMb
Mother Nature Network, March 01, 2011
▶ WHAT CAN 28,000 RUBBER DUCKIES LOST AT SEA TEACH US ABOUT OUR OCEANS? http://www.mnn.com/earth-matters/wilderness-resources/stories/what-can-28000-rubber-duckies-lost-at-sea-teach-us-about-
NRDC, Switchboard, October 30, 2013
▶ TOP-10 SOLUTIONS TO GLOBAL OCEAN PLASTIC POLLUTION http://switchboard.nrdc.org/blogs/lmonroe/ucla_expert_report_top-10_solu.html
Your World Today, January 30, 2012
▶ YOUR LAUNDRY IS LITTERING WORLD'S OCEANS WITH MICRO-PLASTIC PIECES - ENDING UP IN FOOD CHAIN http://www.abc.net.au/worldtoday/content/2012/s3418575.htm
March 12, 2013 - National Geographic
SHOULD PLASTICS BE LABELED 'HAZARDOUS' TO REDUCE OCEAN POLLUTION? http://newswatch.nationalgeographic.com/2013/03/12/should-plastics-be-labeled-hazardous-to-reduce-ocean-pollution/
THE MIDWAY PROJECT
On Midway Atoll - 3,200 miles from both Seattle and Seoul - the scourge of plastic pollution in the oceans is obvious and disturbing. Need proof? Just look inside a dead albatross. The American artist Chris Jordan has.
WATCH SHORT FILM.
"MIDWAY, MESSAGE FROM THE GYRE"
http://rendezvous.blogs.nytimes.com/2012/08/23/the-fatal-shore-awash-in-plastic/?ref=world
WATCH
CHRIS JORDAN ON "FEELING" THE MIDWAY PROJECT http://www.scoop.it/t/our-oceans-need-us/p/982610119/chris-jordan-on-feeling-the-midway-project
▶ WAITER, WHY DOES MY FISH TASTE LIKE PLASTIC? http://sco.lt/6uWnjd
▶ NEWLY DISCOVERED 'PLASTIC ISLAND' IN OCEANS SHOWS GLOBAL EPIDEMIC WORSENING http://sco.lt/7UEq0n
Yale Environment 360, October 24, 2012
▶ PLASTIC WASTE INCREASING ON REMOTE ARCTIC SEABED, CAMERAS REVEAL http://e360.yale.edu/digest/plastic_waste_increasing__on_remote_arctic_seabed_cameras_reveal/3672/
VIDEO:
THE LIFE OF A PLASTIC BOTTLE - THE JOURNEY BEGINS
Bottled water -- clean, portable and good for you -- is the drink of choice for health-conscious consumers who balk at sugary sodas and juices... http://www.bloomberg.com/slideshow/2012-10-02/the-life-of-a-plastic-water-bottle.html
AND MORE VIDEOS
http://www.youtube.com/journeytomidway
AND MORE ARTICLES:
▶ TOMORROW'S LIFE-SAVING MEDICATIONS MAY CURRENTLY BE LIVING AT THE BOTTOM OF THE SEA - KEEP OUR OCEANS CLEAN AND HEALTHY http://sco.lt/7tJmK1
▶ SEA CHANGE: THE LOSS OF OCEAN SPECIES IS STAGGERING http://sco.lt/8AV5qz
▶ PACIFIC LEATHERBACK TURTLE, KNOWN FOR ITS ARDUOUS 6,000 MILE OCEAN TREK, FACES EXTINCTION WITHIN NEXT 20 YEARS http://sco.lt/58mqQL
▶ MARINE POLLUTION - CENTURIES OF ABUSE HAVE TAKEN A HEAVY TOLL - National Geographic http://ocean.nationalgeographic.com/ocean/critical-issues-marine-pollution/
WATCH
Another Stunner From BBC Nature.....
"BLUE HEART OF THE PLANET"
http://www.bbc.com/future/story/20130129-blue-heart-of-the-planet