Scoop.it!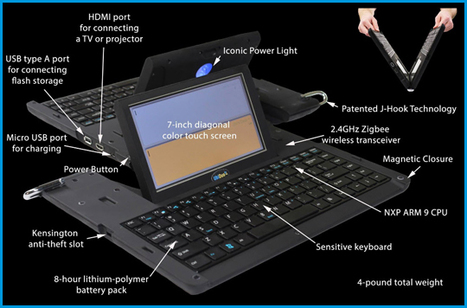 The UbiDuo 2 Wireless, and UbiDuo 2 Wired - the solution for face-to-face communication for the deaf and hard-of-hearing.
Carol Leynse Harpold's insight:
Do you work with deaf clients or co-workers? If your work setting is a hospital or governmental agency, you may have one a UbiDuo 2 available to you as an accommodation for employees or clients who are deaf or hard of hearing (DHH). No, they do not replace interpreters, but they do offer a method of communication for individuals who are hard of hearing, literate and can type.
The UbiDuo 2 has two keyboards with word processing capabilities, its own wireless capabilities, long battery life, fast boot up, and large text options for low vision. It does not offer word prediction or spell checking at this time (so you do need to have reasonable spelling and writing skills).
So if you are working with clients with hearing impairment, this might be available at your medical facility. Of course there are other options available, such as a portable word processor, use of an Android tablet or iPad to type messages using a native notetaking app (i.e. iOS Notes, or Galaxy S Notes or dedicated apps such as the FlipWriter app offering dual writing environments.
As an assistive technology practitioner at Adaptive Technology Resources, we have recently received a number of inquiries for the UbiDuo 2 as an option for DHH. Research on the device shows it has great options for an on demand device for individuals who are DHH and can type.
It does not offer word prediction or spell checking at this time (so you do need to have reason