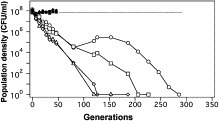 The evolutionary landscape is not exhaustively accessible, in particular epistatic interactions between genes in the genome constrain the accessible evolutionary paths of lineages. Nakajimaa investigates the evolution and interspecific competition of 5 enteric bacterial populations grown in medium containing a single limiting resource. The data in this study demonstrate epistatic interactions may prevent a population from evolving through crossing fitness valleys or adaptive ridges if it requires many generations to achieve peak shifts.
Source:
Toshiyuki Nakajimaa.
The impact of interspecific competition on lineage evolution and a rapid peak shift by interdemic genetic mixing in experimental bacterial populations.
Volume 108, Issues 1–3, April–June 2012, Pages 34–44