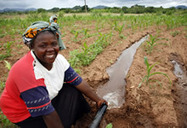 An astonishing trend of on-farm innovation, that is revolutionising agricultural water use in Africa and Asia, has been documented for the first time in five African countries and two Indian states.
In Keta, Ghana, Mr Ahiabor farms a few hectares alongside the local beach. He has improved the sandy soil using organic fertilisers, including local bat dung. But what has really transformed this unpromising piece of land has been the introduction of petrol driven pumps. "We brought in the tube-well systems to take away the tedium associated with baling out water from open wells," he recalls. "Plus the maximum you can irrigate in a day from a well is an acre." Now he farms several times that by pumping water from the tube-well. "All my fields are now irrigated," he says. "We sunk our tube-wells down to just nine metres to avoid salt water intrusion." He uses overhead irrigation from sprinklers because the salty spray from the sea would damage his crops if not regularly washed off. Ahiabor's farm has been a huge success. He now employs two people and supplies vegetables, maize and cassava to local market traders.
Ahiabor's story is part of an astonishing trend of on-farm innovation that is revolutionising agricultural water use in Africa and Asia. The scale of this new trend has now been documented for the first time by researchers based at the International Water Management Institute (IWMI) and their partners in five African countries and two Indian states. The three year 'AgWater Solutions' project, funded by the Bill & Melinda Gates Foundation, has revealed that smallholder agricultural water management is now supporting more households than large public irrigation schemes.
Creating employment and income
"We were amazed at the scale of what is going on," says IWMI's Meredith Giordano, who co-ordinated the research. "In Ghana, for instance, we found that small private irrigation schemes employ 45 times more individuals and cover 25 times more land than public irrigation schemes." The implications for donors and private investors seeking to improve agricultural water supply and enhance livelihood opportunities are profound. Rather than investing in traditional, large scale irrigation systems, they will get more return on their investments if they find ways to support and expand the grassroots, bottom-up approaches that farmers in some of the world's poorest countries are already successfully using.
"We estimate that over 120 million people in Sub Saharan Africa could benefit from improved on-farm water supply," says Giordano. "That could generate annual revenues of up to US$7.5 million, making a massive contribution to household incomes." Pershottham Patel, a farmer in Gujarat India, is a perfect example. He uses the dung from his eight cows to generate biogas. This is then fed to a pump that runs partly on diesel and partly on biogas. Using this innovative arrangement has saved him US$400 a year in fuel costs. At the same time, improved water supply has enabled him to double his crop production.
Challenges remaining
"The technologies for smallholder water management are already with us," says Giordano. "Cheap pumps and new ways of powering them are transforming farming and boosting incomes all over Africa and Asia. Simple tools for drilling wells and capturing rainwater have enabled many farmers to produce crops in the dry season for the first time, hugely boosting their incomes." The researchers accept, however, there are some risks to unchecked expansion of smallholder water management. A water free-for-all on too many farms, for instance, may deplete water tables and raise serious issues of environmental sustainability in some areas. Equity is a further issue that may need to be addressed. The poorest farmers still struggle to find the resources needed to access new technologies.
IWMI estimate that over 120 million people in Sub Saharan Africa could benefit from improved on-farm water supply


New institutional arrangements will be needed if these issues are to be overcome. This may mean finding ways to stimulate market access, and giving pump dealers and farmers more information on products and how to maintain them. Innovative business models to reach out to remote farms, such as 'pump-on-a-bike' hire schemes, where cycling entrepreneurs tour rural areas renting out pumps strapped to their bicycles, may also help address problems of access. "There are huge investment opportunities for further unlocking the potential of this approach," says Giordano. "Our research has shown in which areas and on what technologies money can be targeted for maximum impact. We are looking forward to working with donors and the private sector to capitalise on this up-swell of farmer led innovation."