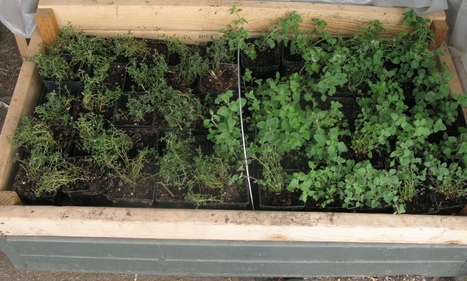 I got a sunburn a couple days ago and I've been telling everyone, because I am super proud of it. Not proud I got burned, of course (always wear sunscreen!), but proud that it was warm enough and sunny enough that I could be happily working outside without a sweater, sifting totally-thawed-out compost to incorporate into a potting mix (you may recall from our newsletter updates that our compost piles were frozen solid for a good portion of the winter).
We're using this potting mix to fill the seed trays where we're planting seeds for most of our spring and summer crops. We are planting from seed rather than plant starts because seeds are much more affordable, and there is a much wider variety of crops available in seed form. Why plant in seed trays rather than directly into the spot where the crops will grow to maturity? There are a couple reasons. It's too cold to plant outside right now, so a short growing season like we have here necessitates taking advantage of indoor space to get a head start on our crops. Seed trays are ideal since they fit a large number of plant starts in a very condensed space that is easy to monitor. We get an average of 75 consecutive frost-free days here, which is about two and a half months, so utilizing indoor space in these early spring months is essential if we want to grow any tender crops that take longer than 75 days to reach maturity and continue producing. And though frost-tolerant crops are a wonderful way to extend the growing season, we like our tomatoes and melons here, too.
A good potting mix is important in getting seeds off to a good start. It should be well-aerated and light so that the seedlings aren't smothered in heavy, wet soil, but should still be able to retain moisture. It also should have nutrients available for the seedlings, and the ability to retain those nutrients (note that potting mixes are not the same as soils and often don't contain any soil at all). Water-holding capacity is especially of concern when planting in seed trays, since the cells tend to dry out rapidly. If the potting mix is too dry, it can become hydrophobic (this happens with soil, too), meaning that water just pools or runs off, but doesn't absorb into the soil no matter how much you water. It's easiest to just avoid this by never letting your soil or potting mix get that dry.
However, the topsoil we used in our potting mix hadn't been used in years and was completely bone dry, so we added some water to the mix and squeezed the parts that actually absorbed moisture together with the dry parts. This forced moisture into the pores of the dry elements, and the mix will be able to absorb water much better in the future. If the potting mix can't absorb water, the seeds won't germinate, and if they do, they'll wither fast. At the end of this post, I've provided the potting mix recipe we used this year, but you can easily buy potting mixes at garden supply stores, too.
http://sift.ncat.org/blog2.php/starting-seeds-making-potting-mix