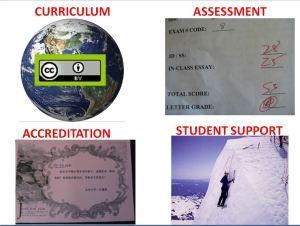 This week I've had the good fortune to interview both Terry Anderson and Rory McGreal, who were visiting Leicester for a meeting with colleagues on a new, EU-funded OER project called POERUP (Policies for OER Uptake). I asked them both to give me their thoughts on how Athabasca was going to go about its participation in the OERu in terms of the four areas outlined in the graphic below. Both noted that they would be speaking more from a personal perspective than from a formal, institutional perspective, as the plans for the OERu are still in their infancy. This post contains a few highlights from the interviews.
If you want to skip straight to the punchline, here is Rory's vision of how the OERu will work:
"Cost effectiveness is the key… How do we educate these 97 million learners … in a cost-effective manner? This is the first idea that I've seen that practical implementation is possible. And this could work. And the way it'd work is this: if we could get a cadre, so we get ten percent of them through, so that's ten million students, but that means there's a cadre of students who've done it, in all these little villages and towns all around the world, and they're an example to the others, and then you can build on that and build on it and build, and that's the way you do it. But not only that; we have developed self-motivated learners, and that's what you need - you need a person who is a self motivated learner. That's more important than anything they learn. And so we build that up and we're away…"