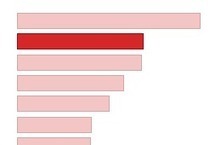 Datawrapper was created to make usage of modern visualization libraries simpler and faster. This tool takes the coding out of the publishing process, making it faster and easier to use.
Datawrapper is aimed to be a tool for data-driven journalism and as an enabler to use open data in the public interest.
Furthermore, the tool is open source, to ensure that newsrooms are less dependent on external platforms, gain control over appearance and the data they collect over time in the public interest.
Going forward we hope that the tool is used to start data desks around the world. Using Datawrapper and other tools for mapping, network visualizations and other forms of visualization is a way to the future, using data to build in-depth, trustable reporting and to provide better context about what is going on.