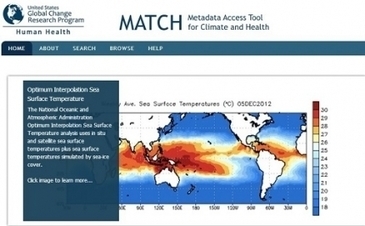 Today, in conjunction with a series of landmark steps announced by the Obama Administration to unleash troves of useful data from the vaults of government, the interagency US Global Change Research Program (USGCRP) launched a new online tool that promises to accelerate research relating to climate change and human health—the Metadata Access Tool for Climate and Health, or "MATCH."
The Administration announcements made today include an Executive Order signed by the President declaring that information is a valuable national resource and strategic asset, and a new government-wide Open Data Policy requiring that, going forward, data generated by the government shall be made available in open, machine-readable formats. The move will make troves of previously inaccessible or unmanageable data more readily available to entrepreneurs, researchers, and others who can use open data as fuel for innovation, businesses and new services and tools.
MATCH is one such tool, driven by open data, which could open the door for new scientific insights in the public health and climate science communities. It is a publicly accessible digital platform for searching and integrating metadata—standardized contextual information—extracted from more than 9,000 health, environment, and climate-science datasets held by six Federal agencies.