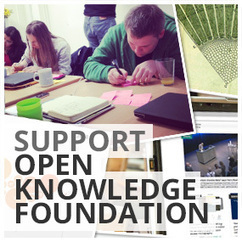 Tomorrow is the official launch date for the Digital Public Library of America (DPLA).
If you've been following it, you'll know that it has the long term aim of realising "a large-scale digital public library that will make the cultural and scientific record available to all".
More specifically, Robert Darnton, Director of the Harvard University Library and one of the DPLA's leading advocates to date, recently wrote in the New York Review of Books, that the DPLA aims to:
make the holdings of America's research libraries, archives, and museums available to all Americans—and eventually to everyone in the world—online and free of charge
What will this practically mean? How will the DPLA translate this broad mission into action? And to what extent will they be aligned with other initiatives to encourage cultural heritage institutions to open up their holdings, like our own OpenGLAM or Wikimedia's GLAM-WIKI?
Here are a few of our thoughts on what we hope the DPLA will become.