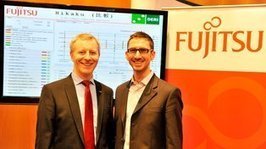 A new system developed in Co Galway could help make it easier to search data that is stored in a number of different places at once.
The new platform, which is the result of an ongoing collaboration between Fujitsu and NUI Galway's Digital Enterprise Research Institute, offers to quickly sort publicly-available data even if it exists on different websites, in different formats.
As an example of this, Fujitsu said a search for a publicly-listed company would automatically pull in data from financial results, market data and press coverage.
The new platform is to be made freely available to users and developers, who will be able to access it online.