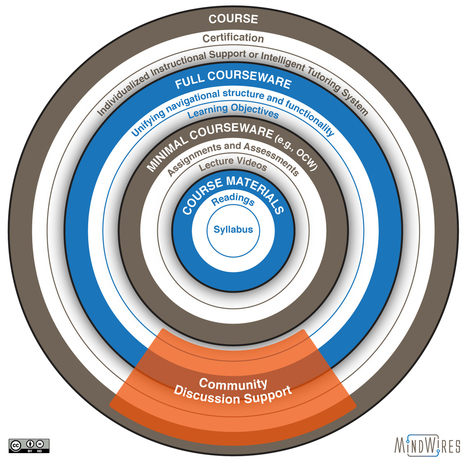 Today's big news is that Coursera, the largest of the MOOC providers, has signed with 10 public statewide systems.
.
One key aspect of this announcement is Coursera's full-fledged move into courseware as a new business line to complement their standalone courses. Courseware is the combination of "the curriculum, the course materials, the assessments and, in some cases, the analytics to track student progress and make study suggestions" as described in Michael's post "MOOCs, Courseware, and the Course as an Artifact". In essence, courseware is everything but the instructor and interactive discussion, certification and support. This is what is meant by "wrapping" around a MOOC.
As seen below, there are different levels of courseware, depending on whether learning objectives and a unifying navigation structure is included.