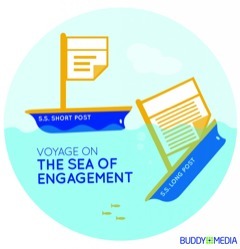 What you see in your Facebook newsfeed isn't magic; it's controlled by a very important algorithm called EdgeRank. Facebook wants users to be engaged, so EdgeRank is a critical aspect of their business. The EdgeRank factors are:
-Affinity – How often you interact with others (be it visiting a friend's profile or commenting on a page's picture).
-Edge Weight – The type of content it is. A few types are: Photos, Videos, Status, Place Checkins, becoming friends with someone, liking a page, changing your profile picture, etc. Keep in mind, there are general rules, but everyone's Edge Weight is different and Facebook has carte blanche to tweak things at will.
-Recency – The older something is, the less likely you are to see it.
Via
Dr. Susan Bainbridge
,
Neil Wilkins
,
Martin Gysler