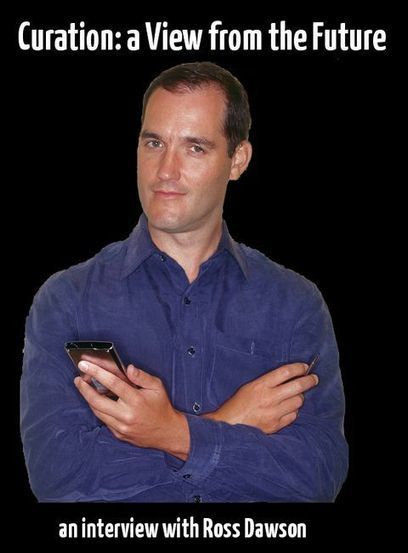 Master Curator Robin Good interviews Futurist Ross Dawson. Here is an excerpt from article:
"Robin asked him:
a) what he suggests to people who want to "make sense of the world", when bombarded by such large amounts of information. How do you make sense of how things are?
b) What is "curation"?
c) Is there any difference between personal, serendipitous social sharing and content curation?
d) What is the key discriminator between the two?
Ross Dawson answers:
a) One of the best ways to make sense of the world is scenario planning or scenarios, where you build a number of worlds for what might happen and that's relevant to you and to use these as filters...
As you look at that and see new things, that's an enormously valuable filter around what is interesting, what is useful, what I need to pay attention to, and what I don't...
b) Curation is selecting what is relevant, selecting what is interesting... ...and this is now becoming almost overwhelming in terms of how many people are doing that.
Ultimately, [the goal is to reach a point] where I can wake up in the morning and I can say I know I have seen the most interesting and relevant things for me.
We're a long way away from that.
c) Sometimes, they can overlap, but [a curator] is usually [someone] saying, "I'm in a particular area. I am the expert. I know what there is. I'm doing that for people who are interested that topic, people I want to demonstrate my expertise too."
d) There's three, perhaps, [types of] intent.
1) One is to contribute to others, to give.
2) Another is to develop your own expertise. I think that's one of the ways to be able to search for and share things actually does make you know more, and I think that's very valid.
3) [The third one, which] is equally valid, though perhaps a little too overdone at the moment, is just people curating so that people look at them..."
Read full original article and watch videos here:
http://www.masternewmedia.org/curation-a-view-from-the-future/
Via
Giuseppe Mauriello