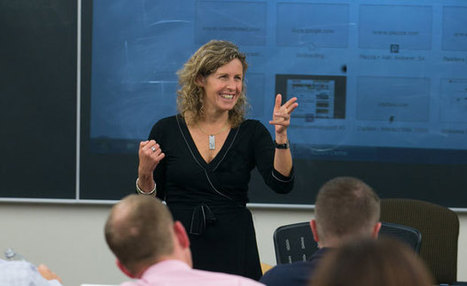 Like publishing, communication, and dozens of other industries, education is being reimagined by a new generation.
Shifting workforce demands and demographics, advancements in brain and learning sciences, social and mobile technologies, and purposefully connected communities are all driving forces in this transformation. Online learning is the hub.
FACE-TO-FACE AND SCHEDULE FLEXIBILITY
Discussion boards have long been a mainstay tool of online learning, but they can feel disjointed, forced and impersonal. Live videoconferencing, on the other hand, can be more personal, but scheduling busy professionals across several time zones negates the flexibility online learners seek. Today, a new modality is emerging – loosely called "live-ish" – that combines the best of both worlds. Using their mobile devices, busy students interact face-to-face in near real-time with audio and video selfies posted in conversation form.
PURPOSEFUL CONNECTION AND COMMUNITY
Social relationships and shared purpose make learning meaningful. When people with diverse experiences collaboratively engage in inquiry, problem solving, and real-world projects, personal connections and learning thrive. Historically, facilitating such engagement has been difficult with available tools and methods. Today, however online students from diverse geographic regions and backgrounds in public, private, and non-profit sectors are collaborating with each other and real-world clients to solve some of their biggest problems.
ALUMNI MENTORS, TUTORS, AND CAREER COACHES
Top-tier schools have always benefited from their loyal alumni network, but new opportunities are emerging in the online space for alumni to engage in more meaningful ways – even when thousands of miles away from campus. Some professional online programs facilitate online mentoring, tutoring, and career coaching programs to support students through school-work and new career opportunities, while alumni simultaneously build their own professional connections and reputation. Purposeful community has lifetime value.
Susan Gautsch
Director of Online Learning, USC Sol Price School of Public Policy