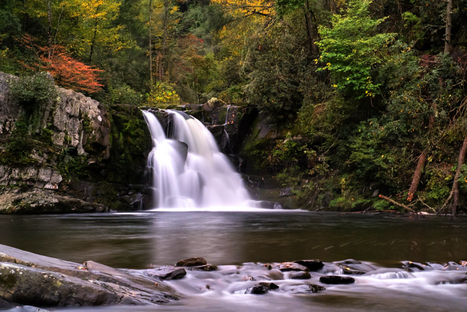 Abrams Falls is found along the Abrams Falls trail from within Cades Cove in the Great Smoky Mountains National Park. Although I've visited Cades Cove multiple times this was the first time we hiked in to see the falls
.....
Photography at Abrams Falls. Making an image here that you'll be happy with once you're finished requires patience if the falls are corowded. On this particular day, it took about 2 hours to get positioned and get the photos we wanted as we waited for people to move. One of the activities that continues to baffle me is when folks think it's safe to climb the falls. I've seen this at other waterfalls I've visited and I dread the day I see someone slip and get hurt. Signs are posted here about climbing on the rocks but they are ignored.
Equipment Used. This image was made using the Fuji X-Pro1 and the Fuji XF 35mm f/1.4. Exposure of 7 seconds at f/11 ISO 800. A polarizing filter was used to take the glare off the water. I used a higher ISO so that I could have a shorter shutter speed to retain some detail and texture in the flowing water.
Via
Thomas Menk