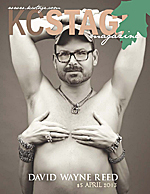 "When asked if I wanted to grow up to be a farmer, I said, "No, I want to be a back up singer, and an artist and a stripper." - from Jolly Rancher

David Wayne Reed is excited.

His play Mother Trucker is being produced at Seaside Repertory Theater in Santa Rosa Beach, Fla. "It's the first production of something of mine that I didn't produce. It's mind blowing," says David.