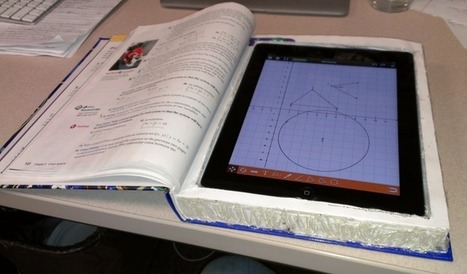 A group of teachers have started to disrupt their own textbook options by starting up an iBooks Author Hackathon. And it's incredible.
...
Middle school math teacher Tara Maynard (@tmaynard5) has been using iBooks Author to create media-rich, interactive books for her algebra and geometry students for the better part of this year. Her books contain guiding questions for students to focus on as they explore the pages filled with short video tutorials, student-friendly text, formative assessments that give immediate feedback, and interactive widgets for determining patterns and relationships. She will tell you this has been an incredible tool for student learning and is increasing student achievement.
But that's not the best part.
Maynard points to the fact that her face-to-face time with students is much more meaningful, and it's not just focused on content. Class time is freed up for collaborative work time, one-on-one support, and small group projects—all of which now occur more regularly, thanks to delivering content this way.
iBooks Author HackathonDream with me for a moment and imagine your students' eBook supporting multiple modes of learning, from student friendly text and high quality images, to interactive widgets built for the kinesthetic learner to explore concepts. Imagine your students' eBooks containing their own teacher-featured videos that are viewable offline to support anytime/anywhere learning. Imagine it containing a live RSS feed to your class blog or class Twitter hashtag. Imagine it containing images of students themselves, video story problems from the business down the road, links to web resources, and online assessments that give teachers immediate feedback on student comprehension.