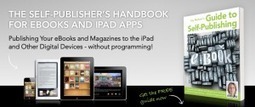 Quark announced today the availability of a new, free resource for self-publishers from graphic design expert and self-publisher Jay Nelson. Titled "Jay Nelson's Guide to Self-Publishing," the comprehensive guide outlines everything self-publishers need to know about getting digital projects, like ePubs and iPad apps, started and finished – without programming. The guide is free in ePub format or as a PDF and can be accessed here: www.quark.com/selfpublish.
...

In this free guide from publishing expert Jay Nelson, you will learn how to:
• Prepare your project properly with the right tools for success
• Create eBooks properly and get them into the Apple iBookstore
• Publish your own eMagazines and create iPad apps for the App Store
• Break-even faster with the best tools and the right strategy
Whether you are looking to self-publish magazines, journals, newsletters, books, or other publications, this guide is intended to help you understand the current Digital Publishing landscape.
The Guide walks you through the most popular formats currently in use for digital publications, how to convert or create those publications, and gives a breakdown of their costs. It also describes several ways to distribute and market your digital publications.
In addition to this free guide, you will receive emails with more tips and links to professional video tutorials so you get all the support you need during your work.
We wish you success in implementing your own digital publications and look forward to your feedback!


Read more: http://www.epublishabook.com/2012/06/11/free-guide-to-self-publishing-ebooks-ipad-apps-now-available/#ixzz1xUWgvuLe ;
Under Creative Commons License: Attribution No Derivatives
Source: ePublish a Book (http://s.tt/1e0qY)