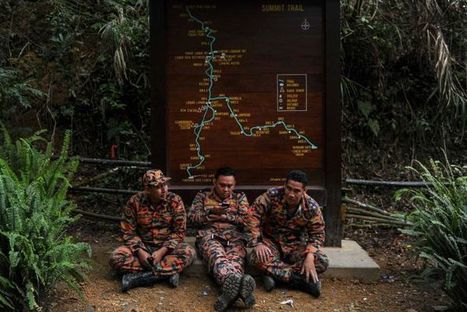 Australian climber Vee Jin Dumlao describes the harrowing journey down Malaysia's Mount Kinabalu, after an earthquake left her stranded.


Arriving at Laban Rata, Ms Dumlao saw uniformed rescuers milling around the "chaotic scene".

"They were looking rather lost really, and it was the mountain guides who did most of the work attending to the injured, strapping people into stretchers, getting ready to take them down the mountain," she said.

"The whole government emergency response was a farce."

"They congregated in groups occupying resting spaces, sharing smokes and food that were meant for survivors," she said.

"A convenient helipad remain unused when they could have transported rescuers to the foot of the peaks. Instead "rescuers" arrived at 4:00pm, nine hours after the earthquake struck, on foot, much too tired to be of help."

"If the helicopters had delivered some help earlier and landed in the helipad at Laban Rata, they may certainly have been able to attend to any injured people quite sooner," she said.

After seven hours trekking in the freezing dark, through treacherous rain and mountain-rattling tremors, the climbers reached the trek's starting point Timpohon. Upon their arrival at 12.30am, the site was strewn with medics, military and media.

All members of Ms Dumlao's group made it to the mountain's base safely.

"I cannot find evidence for me to respect the government who have all the conspicuous demonstration of responsibility but none of the true act of it," she said.

"It was quite appalling when the rescue services got credit for something they did not do at all."