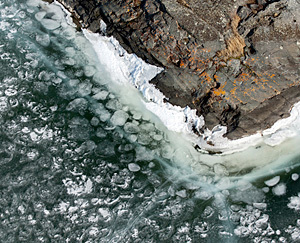 [excerpt] The photography exhibit Airborne Abstracts was presented by Jeroen Slagter and Brent Reaney and is a series of aerial photographs taken out the window of a Cessna airplane over the course of a year.

The exhibition took place at the Smokehouse Cafe was attended by 100 to 200 people according to photographer Reaney.

"I think people really were sort of impressed by the colours and shapes," said Reaney. "People have seen some of stuff before but not from this perspective."

Reaney was inspired to create the project when travelling to the city on one of his first trips.

"It seems like a lot of people have the same experience when you're coming in or out of Yellowknife," said Reaney. "Looking out of the window of the plane the first time is spectacular but even every time I go I see something down on the ground, whether its a shape in the ice or a rock or colours of the trees a certain time of year, break up freeze there all really interesting."

Reaney's partner in the project, Slagter, is a pilot and dubbed by the photographer as the director of "flightography." Slagter picked out routes on the trips.