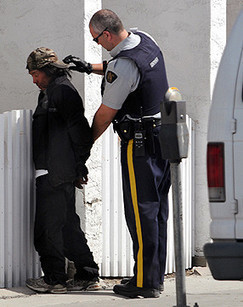 Forty people are listed on the day's docket, facing a total of 145 charges - most of them criminal.
They're from across the Northwest Territories, but many call Yellowknife home. Though all are innocent until proven guilty, the docket is a good gauge of the worrying crime numbers in Yellowknife coming from Statistics Canada.
Yellowknife ranks fourth out of 297 communities in Canada with a population more than 10,000 for its Crime Severity Index (CSI), meaning Yellowknife has some of the most serious crime in the country.
While Yellowknife's CSI rose 2.4 per cent from 2011 to 2012, the crime rate - the actual volume of crimes - decreased by 0.1 per cent.
Specifically, incidences of violent crime and drug violations dropped.