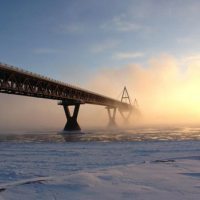 People in the community of Fort Providence in Canada's Northwest Territories are preparing for the grand opening of the Deh Cho Bridge on Friday, but there is still some bitterness about what could have been.
Some in the community are skeptical the bridge will change life there for the better.
For decades, people in the community of about 700 have been talking about building a bridge across the Mackenzie River.
The bridge got the green light in 2007. The band and the Métis council were originally running the project and planned to collect millions in toll revenue through the Deh Cho Bridge Corporation.
But that all changed when the Department of Transportation kicked the corporation off the project in February 2010.
The community signed a new benefits agreement with the territorial government. Instead of getting about $41 million over 35 years, it will now receive about $7 million.
"Fifty million dollars — wow, boy, the big return on it just made it so enticing that I think people just got sucked into it," said Sam Gargan, a former chief of the community.
Gargan was the chief of Fort Providence's Deh Gah Gotie band in 2002 when the idea of a bridge partnership started taking shape. At the time, the bridge was thought to cost a quarter of its final price tag of $202 million. He said the promised toll revenue would have been a huge benefit for Fort Providence.
Gargan doesn't think the community has seen many benefits from the project.
[...]
10