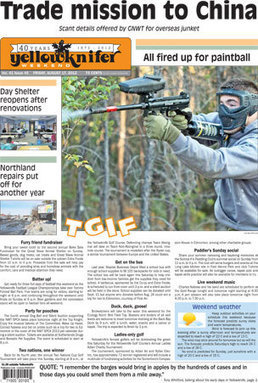 NEWS
Tony Whitford: transitional figure in Yellowknife's growth. Former NWT commissioner recalls modernization of the North
Legal battle continues. Territorial government launches appeal of court's ruling to expand schools, give admission rights to French school board
Stanton to launch mental health pilot program. Technology shrinks distance between patients and physicians
Forces collide on city's harbour plan. Residents are ready for Yellowknife to create greater public access to the waterfront but is the city ready to face the naysayers?
A remote exchange of ideas. Australian senior police officer studies Northern RCMP policies on serving outlying communities
OPINION
Long live Old Town Ramble and Ride. Neighbourhood festival honours Yellowknife's heart and soul, rain or shine
City welcomes fresh Arctic Air.
ENTERTAINMENT
Yellowknife Film Fest stretches wings. Annual event expands
SPORTS
Racers flock to marathon. More than 250 competitors take to the streets and trails for club's big summer event