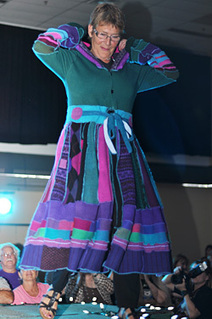 Great Northern Arts Festival chair Marja van Nieuwenhuyzen models one of her over-dyed, up-cycled sweater creations. - Danielle Sachs/NNSL photo
[excerpt]
Dresses were paired with mukluks and mittens. The parkas caught the glint of blue spotlights that shone down the stage.
Clothing was taken from the Great Northern Arts Festival gallery and shown in its true fashion, although some of the seal skin parkas may have been a little warm for the stage lights.
[...]
Chantal Cournoyer openly gasped from her seat in the audience when she saw some of the knits, both from Lam and some of the $1,000 qiviut sweaters.
"My mother and grandmother used to knit," she said.
"But I've never seen anything that intricate and detailed."
[...]