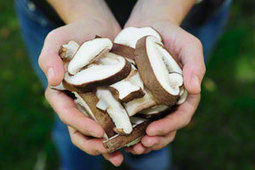 Vitamin D is an essential vitamin that boosts the immune system and plays vital roles in human metabolism. Did you know that tasty mushrooms are one source for vitamin D, and that you can naturally multiply their levels by exposing them to sunlight?
You can sun dry or UV-zap store-bought or homegrown shiitake, maitake, button, and many other mushroom species.
My personal preference is home grown organic shiitake. The high vitamin D levels generated will last for more than a year.
Surprisingly, even sliced and dried mushrooms—including wild ones picked the year before—will soar in vitamin D when placed outdoors under the sun.
Via
Sepp Hasslberger
,
DebbyBruck