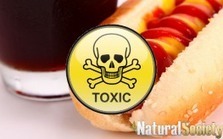 Research shows that two common food packaging substances - BPA and phthalates - are causing numerous health problems, including obesity and diabetes.
The first chemical contaminant, a phthalate known as Di-2-ethylhexylphthalate (DEHP) was found to be closely linked to a teen's risk of insulin resistance, a precursor to type 2 diabetes. DEHP is one of many phthalates used in food packaging, this one to soften plastic drink bottles.
... BPA is frequently used in the linings of canned food and is a known endocrine disrupter, suspected to be linked to increased risk of breast cancer, fertility problems, and increased risk of diabetes.As parents, there is certainly a responsibility to teach our children good nutrition, but we must also provide them with the right food and food products. This includes healthy food packaging. Avoid buying food in plastic containers and certainly avoid microwaving plastics, which can cause the contaminants to leech into the food. Also, avoid canned goods whenever possible.
Via
Bert Guevara