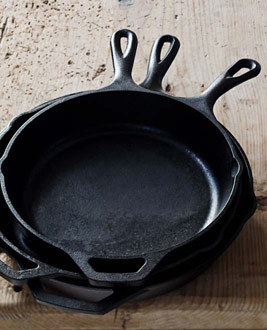 Cast Iron Cookware
Cast iron is becoming popular once again. Cast Iron Cookware May Actually Improve Health.
PROS:-Cast iron is relatively inexpensive, durable and is great for cooking also known for its durability and even heat distribution. Cast iron cookware can also help ensure that eaters in your house get enough iron—which the body needs to produce red blood cells—as it seeps off the cookware into food in small amounts.
Unlike the metals that can come off of some other types of pots and pans, iron is considered a healthy food additive by the U.S. Food and Drug Administration.
CONS:- On the flip side, it can be heavy and might require considerable amount of maintenance. Also, when it is new it will have to be seasoned.
Suggestions:
Keep cookware well-coated – To prevent rust damage, the inside of cast iron cookware should be coated frequently with unsalted cooking oil.
Use detergents sparingly – It should not be washed with strong detergents or scoured and should be wiped dry immediately after rinsing.
Watch out for safety of nonstick cookware in the coming posts