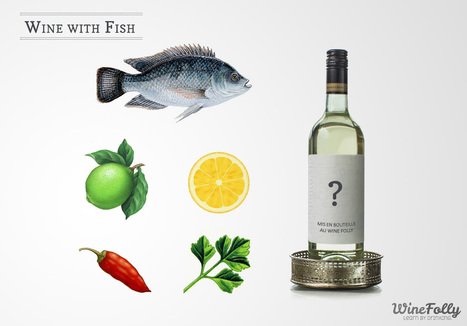 Last year a scientific study identified the chemical interactions that happen inside your mouth after each bite of food and sip of beverage. The tests demonstrated how certain pairings actually improve the lingering taste of food in your mouth. Some foods were even better with wine than with water. Fish is deceptively tricky to pair with many wines because of how fish oils hang on your taste buds. Beyond just the choice of fish, the sauce and fish preparation affects what tastes best when pairing wine with fish.
Fin fish can be characterized into 4 major groups by texture and flavor. As a general rule white wine pairs well with most fish, but certain white wines go better with certain types of fish.
Lean and Flaky Fish - Mild flavored white fish with filets that are usually thin. Sea Bass, Branzino, Black Sea bass, Flounder, Perch, Porgy, Sole, Fluke, Tilapia, Wild Striped Bass, Pollock, Haddock
Wine with Flaky Fish - Look for zesty and refreshing whites to balance the delicate fish flavor.
Grüner Veltliner
Vermentino (Italy)
Pinot Grigio (Italy)
White wines from the South of France
Champagne Vinho Verde (Portugal)
Muscadet (Loire)
Greek Whites
Portuguese Whites
Albariño
Cava Sauvignon Blanc (Loire, France)
Sauvignon Blanc (Washington)
White Bordeaux
Verdejo (Rueda, Spain)
Chardonnay (Chablis, France)
[...]
Via
Mariano Pallottini