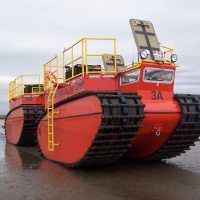 WANTED: U.S. Coast Guard in need of an amphibious Arctic craft that can handle treacherous sea ice and extreme cold off Alaska's northern coast.
[excerpt]
Nationwide the agency operates scores of response boats that do everything from conduct rescues to fight fires to bust drug-runners to help defend America's coastline. But there's no fleet based in the U.S. Arctic, where an increasing number of ships ply the frigid seas off Alaska's shores in support of oil development, shipping and tourism.
As a result, the Coast Guard is looking for a versatile patrol vessel that fits into a C-130, a large cargo plane, and can be launched from shore to negotiate ice-choked seas, big waves and the Arctic coast's ever-shifting sands, the Coast Guard's research center announced this year.
The agency's search so far has yielded two bulky and strange-looking vehicles that the Coast Guard will review in live demonstrations this week in Barrow, the nation's northernmost community located along the Arctic Ocean. The peculiar craft are made by family-owned companies -- one from Alaska, the other from Canada.
They generally look like a World War II-era tank crossbred with a barge or a tug. Versatile they are, their inventors claim. They perform like boats in open water. But beneath their hulls, tracks let them rumble over sea ice and snowy shores.