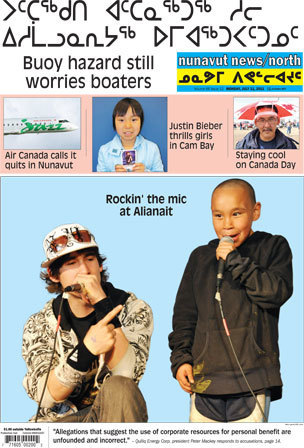 * Conference delegates hear thoughts on Inuit identity. Redfern and Anawak among presenters sharing insight on Inuit reality
* Cruise ship business goes up and down. Expected visits receive mixed reaction from communities
* Electronic health files get a boost. Reviews mostly positive in Cambridge Bay and Iqaluit
* Man alleging discrimination seeks $12,500. First human rights hearing in Nunavut involves construction worker
OPINION
* Inexcusable hazards. Coast guard and Transport Canada must do more to protect boaters
* Dangerous and discriminatory path started in Rankin Inlet.
ENTERTAINMENT
* Festival packs in the arts. Alianait Arts Festival concludes with successful seventh year
SPORTS
* Louis Nutarariaq back on the podium. Iqaluit judoka claims bronze medal at national junior championships
BUSINESS
* Korean interest in North kept low-key. Korean Gas Corporation visit played down, MGM Energy investment "modest"