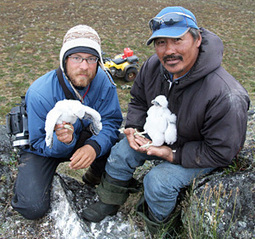 The study was done during the summers of 2007-09, as part of Vincent L'Herault's master for the University of Quebec in Rimouski, Que., with the help of Inuit guide Poisy (Adam) Alogut and project leader Alastair Franke of the Canadian Circumpolar Institute.
L'Herault said the goal of the study was to monitor the falcons to better understand what they eat and their reproductive outputs during those years.
He said Alogut did an amazing job and became much more than just a guide.
"He really became a leader and influenced the way we viewed the tundra and the birds," said L'Herault.
"We had a paper published in the internationally known journal, Ecology and Evolution.
"I had Poisy listed as one of the authors, and it's very rare for scientific research to acknowledge a local person.