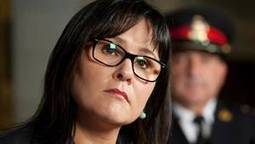 Health Minister Leona Aglukkaq, the MP for Nunavut, is in some ways a surprising choice as Canada's representative to the council, despite her heritage. Finland, Norway, Denmark, Iceland, the U.S., Russia and Sweden are all represented on the council by their foreign ministers.
Still, Ms. Aglukkaq, who attended a recent "Arctic Frontiers" conference in Tromso, Norway, has the benefit of having grown up in Nunavut. "If we are to successfully navigate the future of the Arctic, we must build bridges between people who live there and the new realities," she told the meeting, a gathering of global politicians, scientists and industry representatives. She emphasized the need to promote development in the North, as well as to include Inuit traditional knowledge in scientific research. These are worthy goals.
However, she said less about preserving the Arctic's unique ecosystem, which is part of the council's mandate. Climate change is occurring twice as fast there as elsewhere. In 10 years, the Arctic Ocean will be ice-free during the summer. The council should consider how best to reduce black carbon, or soot, which accelerates the melting of sea ice. "The Arctic faces environmental change and adaptation and Canada needs to go beyond just a state focus," said Petra Dolata, a King's College, London professor who attended the conference.
10