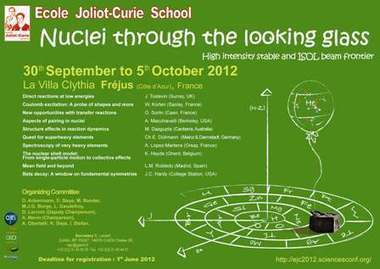 New intense Radioactive and stable beam facilities are now under construction around the world. With the aim of creating and updating the skills of various researchers to exploit these facilities, this year's edition of Ecole Joliot Curie will address the topic:
"Nuclei through the looking glass: High intensity stable and ISOL beam frontier"
The school will take place from 30th September (Sunday) to 05th October 2012 (Friday)
The school will be held at La villa Clythia, Frejus, (near Nice) in the south of France.
Looking forward to your active support and participation to this school.