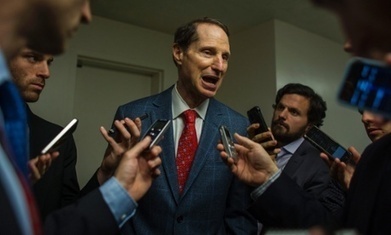 Privacy advocates pressed Barack Obama to end the bulk collection of Americans' communications data at a series of meetings at the White House on Thursday, seizing their final chance to convince him of the need for meaningful reform of sweeping surveillance practices.
A key US senator left one meeting at the White House with the impression that President Obama has yet to decide on specific reforms. "The debate is clearly fluid," senator Ron Wyden of Oregon, a longtime critic of bulk surveillance, told the Guardian after the meeting. "My sense is the president, and the administration, is wrestling with these issues," Wyden said.
Other groups were meeting presidential aides on Thursday afternoon, including the representatives of the American Civil Liberties Union, the Electronic Privacy Information Center (Epic) and the Open Technology Institute. Expectations were mounting that Obama will propose changing the National Security Agency's controversial database of all domestic phone call records.
"The White House must end the NSA bulk record collection activities," said Alan Butler, a lawyer with Epic, voicing the bottom line of the civil liberties coalition.
Wyden, a member of the Senate intelligence committee, said he viewed the coming days and weeks, ahead of an announcement by Obama about the future scope of surveillance, to be decisive for the debate triggered by NSA whistleblower Edward Snowden.
"What I'd say to Americans is that the future of these programs is being determined now," Wyden said. "For those like me, who believe that security and liberty are not mutually exclusive, this is the time to weigh in."
Click headline to read more--
Via
Chuck Sherwood, Senior Associate, TeleDimensions, Inc