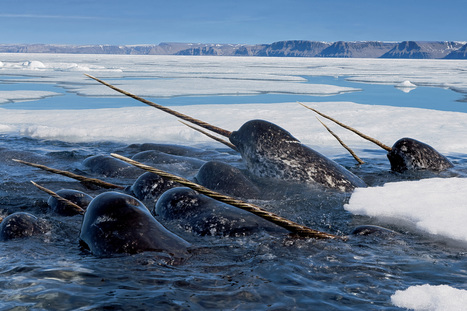 The whales are known for their tusks which can reach 2.6m (9ft) in length, earning them comparisons with mythological unicorns. The tusk is an exaggerated front tooth and scientists have discovered that it helps the animals sense changes in their environment. Experts suggest males could use the tusks to seek out mates or food. The results are published in the journal The Anatomical Record.
Dr Martin Nweeia from the Harvard School of Dental Medicine, US, undertook the study alongside an international team of colleagues. Through the years, many theories have tried to explain the function of the narwhal's impressive tusk. "People have said it's everything from an ice pick to an acoustic probe, but this is the first time that someone has discovered sensory function and has the science to show it," said Dr Nweeia.
More recently, experts have agreed that the tusk is a sexual characteristic because it is more often exhibited by males and they appear to use them during fights to assert their social hierarchy. But because the animals are rarely seen, the exact function of the tusk has remained a mystery. Previous studies have revealed that the animals have no enamel on their tusk - the external layer of the tooth that provides a barrier in most mammal teeth.
Dr Nweeia and the team's analysis revealed that the outer cementum layer of the tusk is porous and the inner dentin layer has microscopic tubes that channel in towards the centre. In the middle of the tusk lies the pulp, where nerve endings which connect to the narwhal's brain are found.
"Although it's a rigid tooth, it has a very permeable membrane," said Dr Nweeia. He explained that because of this structure, the tusk is sensitive to temperature and chemical differences in the external environment. The researchers proved the link when the tusk was exposed to different salt levels in the water and there was a corresponding change in the narwhal's heart rate. He described the tusk as "unique" in the animal kingdom because its porous outer layer is usually only found below the gum line in mammals, where it is only exposed by damage or disease.
"The narwhal is the only example documented where teeth are shown to have the ability to constantly sense environmental stimuli that would not necessarily be considered a threat," he said. "If you were looking for an ideal and fascinating tooth to study there's no question this would be it."
Via
www.bionautic.com