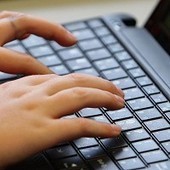 The father of a teenage girl who killed herself after being abused by brutal bullies on a social networking site has called for it to be closed down.
Dave Smith said his 14 year-old daughter Hannah died on Friday in Lutterworth, Leicestershire, after being "cyber-bullied" on the question-and-answer website ask.fm, which allows users to send messages to one another without their identity being disclosed.
He is urging the authorities to close down the site, and those like it, after stumbling across cruel taunts from so-called "trolls" that he said drove his daughter to take her own life.
"How many more -teenagers will kill themselves because of online abuse before -something is done? These sick people are just able to go online and hide behind a mask of anonymity while they abuse vulnerable teenagers," he told the Daily Mirror.
"We've lost Hannah in the most horrendous way imaginable. It's time something was done so that no other family has to go through this."
The schoolgirl was found hanged in her bedroom by her sister Jo, 16. Mr Smith later found a note written by Hannah which read "I wonder if it's ever going to get better", the Mirror reported.