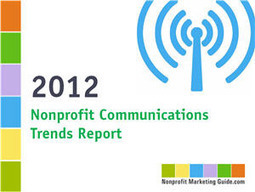 Coming soon: Trends by region in the U.S. and Canada.
Highlights from the Report
> Big 6 Communication Tools for Nonprofits: website, email, Facebook, print, in-person events, and media/PR.
> Only 24% of nonprofits have written & approved marketing plan for 2012.
> 78% of nonprofits say they'll email supporters at least monthly in 2012.
> Facebook twice as important to nonprofits as blogging, video, or Twitter.
> Facebook beats Twitter, 80% to 34% as important to nonprofit marketers.
> Online communications will continue to dominate for nonprofits in 2012.
> Smaller nonprofits more social in person and online; big nonprofits prefer traditional marketing.
> What excites nonprofits: new websites, real marketing plans, integrating channels & social media.
> What scares nonprofits: vying for attention, new social media, no $ for marketing & burning out.