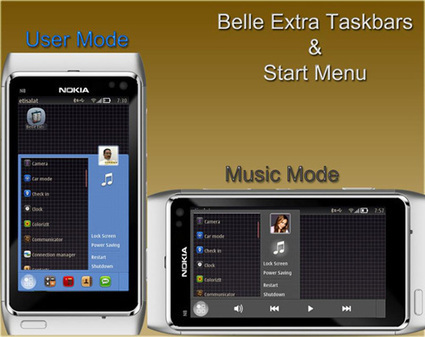 Recently released Symbian utility app Belle Extra Taskbars and Start Menu is updated to v1.1.0. The latest version brings couple of new functions, fixes an...
Changelog v1.1.0:
User has an option to select the Swipe area to launch the Extra Taskbar:-All the area of the bottom ToolbarLeft side of the bottom ToolbarRight side of the bottom Toolbar
* This option is helpful / requested by customers to avoid showing the Extra Taskbar accidentally when using a web browser in full screen mode; Where user can select to show the Extra Taskbar when swiping upwards starting from the most left / right of the bottom toolbar.
Fixed Aero Peek functionalityFixed Show 'Home screen / Idle' functionalityFixed the layout of the Extra Taskbar on Lock Screen when mobile is in Landscape modeChanged application iconInternal enhancementsAuto-hide extra taskbar' option has been deprecated.To hide the Extra Taskbar after showing it, tap away from the Extra Taskbar.