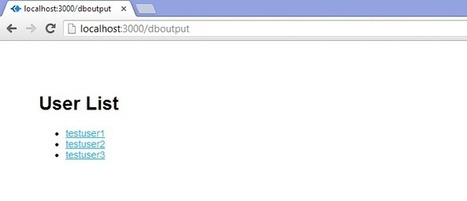 HE DEAD-SIMPLE STEP-BY-STEP GUIDE FOR FRONT-END DEVELOPERS TO GETTING UP AND RUNNING WITH NODE.JS, EXPRESS, JADE, AND MONGODBSET UP THE FULL STACK AND HAVE A WEBPAGE RUNNING IN 30 MINUTES. MAKE IT TALK TO YOUR DB IN ANOTHER 30.
In my experience, the "next level" tutorials out there seem about 30 levels further along. We go from "Hello, World!" to building out an entire blogging system with comments. Which is also great, but a lot of times those tutorials assume the reader has done a whole bunch of intermediate fiddling, and they often drop a bunch of big functions on you all at once. I tend to learn best by making lots of smaller, intermediate steps, and I don't think I'm the only one.
Well, good news, everyone! I've done the fiddling and read a bunch of tutorials and shouted at my command prompt until things finally worked. I have a web project up and running which uses Node.JS, the Express framework, the Jade HTML pre-processor, and MongoDB for data. I can read to and write from the DB. From there, the sky's the limit.
Here's the deal: I'm going to show you how to get all of this stuff set up. I'll be assuming that you're a front-end developer who knows HTML5/CSS3/JavaScript well enough that I don't have to explain those. If that's you, then this should be a solid primer.
Via
Jan Hesse