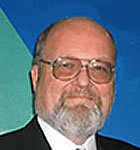 @Dennis T OConnor was an early adopter before being an early adopter was cool. As an educator in the 1980s, he was always looking for new ways to bring emerging technologies into the classroom. In 1983, Dennis set up a literary bulletin board system for student writers run on an Apple computer.
Dennis was always interested in tech innovation; he studied this in all of his years of early and undergrad education. He then went on to earn two masters degrees, one in Online Teaching and Learning, and the second in Technology Integration and Instructional Design. I'm not at all surprised that Dennis is one of the early users of curation in the classroom.
According to Dennis, curation was a natural outgrowth of his work with the 21st century Information Fluency Project. With this project, he has worked for over 10 years creating curriculums on how to search, evaluate, and ethically use digital resources. Dennis had begun using curation within this project way before Scoop.it eve existed, but when he found it he was anxious to give it a try.
Stay tuned this week to find out more about the success Dennis has found on Scoop.it using curation for education!